With their impressive storage capacity and reliable handling, crossover SUVs have become a popular choice compared to their full-size counterparts and even some sedans. Many drivers in the St. Charles, St. Louis, O'Fallon and Saint Peters areas have already made the switch and experienced these masterfully-crafted machines first hand, but is a crossover right for you?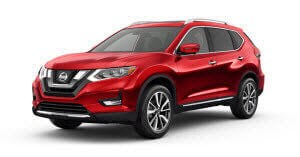 If you're thinking about upgrading, take a look at the 2018 Nissan Rogue. The 2018 Rogue stands to be one of the best crossovers available. Learn about the exciting new features the 2018 Nissan Rogue can offer you with St. Charles Nissan's car review!
Exterior
While this version still retains the Rogue's signature appearance, the 2018 model has had a few adjustments. Eager to stand out in the increasingly competitive crossover market, the new Rogue has adopted an aggressive look with sharper lines. However, the classic Rogue curves are still present too, making it feel organic.
The sharp lines are most prominent in the front, coupled with a stunning bumper and grille with angular LED headlights. The back of the Rogue is where the organic design shapes begin to take hold, but the entire vehicle blends together well, with one angular line crossing the entire chassis. With the standard 17-inch wheels, you're bound to make an impression no matter where you go. If that's not enough, higher trim levels offer 18-inch and 19-inch wheels for maximum effect.
Interior
When you own a Rogue, the interior is what you're going to see and experience the most, so it's only natural that it should be designed just as well. The 2017 Rogue already featured an impressive interior with an innovative infotainment system. The 2018 tops even that with an all-new, 360-degree camera. This incredible feature grants you complete awareness of your surroundings displayed through your console screen.
Other driver assistance features are also available, like blind spot warning and forward emergency braking that can help apply the brakes for you if you're unable to stop an imminent collision. These safety features can bring a lot of peace of mind, and you can relax even more with heated seats and steering wheel.
Performance
While the Rogue is visually striking, it still needs to get you to your destination efficiently. The engine doesn't disappoint with its 170 horsepower and three driving modes. These modes include eco, normal and sport, giving you versatile options that can cater to your needs as a driver.
The 2018 Rogue offers the brand new hybrid version with a unique hybrid powertrain that few other hybrid crossovers can compete with. Finally, the gas-powered Rogue already gets an impressive EPA-estimated 29 mpg combined, which is higher than some sedans, but the hybrid version will get considerably more, leaving you with incredible fuel efficiency.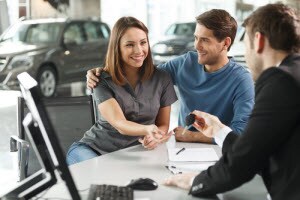 Are You Ready for the 2018 Nissan Rogue?
With all the exciting features packed into the 2018 Nissan Rogue, it's easy to see how it will surpass most other crossovers on the market. Featuring style and versatility, the Rogue is guaranteed to have something everyone can enjoy. The staff at St. Charles Nissan is eager to assist in your car buying journey, so don't hesitate to contact us with any questions you may have.
We've been helping people in the St. Charles, St. Louis, O'Fallon and Saint Peters areas for years now, so you can trust our professionalism. Whether you want to get a feel for the Rogue by test driving, or you simply want to browse our inventory, don't hesitate to let us know. Visit us or call (888) 375-3511 for more information today!