There are a lot of factors to consider when choosing your next sedan. Of course, performance and safety should rank high on the list when you're considering the Nissan Altima, but drivers in today's market also lump technology features as one of the crucial components to help them figure out if the vehicle is right for them. Still, how do they stand up to you?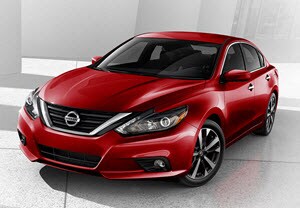 We'll be taking a closer look at the 2017 Nissan Altima, but more importantly at its technology features. We'll look at convenience technology, entertainment technology, and optional driver-assisting technology features. By learning about the technology features of the 2017 Nissan Altima, you'll be able to decide if it's the right sedan to take to the roads in the St. Charles, St. Louis, and Saint Peters area.
2017 Nissan Altima Convenience Technology
The Advanced Drive-Assist Display is an intuitive screen behind the steering wheel that keeps you up-to-date on your vehicle and its components. It provides you with information pertaining to your tire pressure, fuel economy, external temperatures, and power ratios. It's designed to help you keep your eyes on the road while being informed of any issue with your vehicle.
Getting in the Nissan Altima is easy with the remote keyless entry. This feature allows you to enter the vehicle without having to fumble for your keys-as long as they're on you, you don't need them to open the door. The push button start is also a convenience feature because you don't have to turn the key over to start the car.
The Nissan Altima also comes with Bluetooth® technology. This system allows you to make or receive phone calls from the road. If you choose to upgrade, the SMS Text Messaging Assistant will deliver your incoming texts to the Advanced Drive-Assist Display screen.
Entertainment Technology
The Nissan Altima comes standard with an AM/FM radio and a CD player that can play MP3 format files. You can upgrade to include a five-inch screen, or a seven-inch screen for easy access to your media. The base starts out with a four-speaker sound system, but you can upgrade to include the eight-speaker Bose® premium sound system. You can even opt for the three-month trial subscription of SiriusXM® Satellite Radio.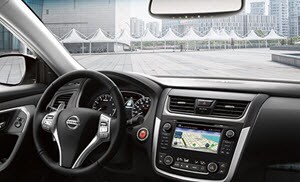 Optional Driver-Assisting Technology
If you choose to upgrade your Nissan Altima, you'll have access to some pretty helpful features that can add ease, convenience, and security to your driving. The Blind Spot Warning system will notify you of a vehicle in your path if you're trying to change lanes. The Predictive Forward Collision Warning and the Forward Emergency Braking systems will notify you if a collision is imminent so you can react and stop your vehicle before an accident occur.
Was this technology review helpful? Contacts us at St. Charles Nissan to learn more about the 2017 Nissan Altima and its impressive technology features. We're always happy to help drivers from the St. Charles, St. Louis, and Saint Peters area find the sedan that's right for them.