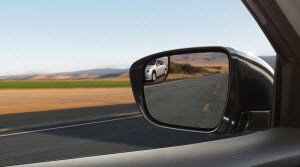 One of the most important factors to consider when finding your next car is safety. You want to be sure that the vehicle that you choose to buy will have enough features to help you avoid an accident, and enough systems to protect you in the event that one occurs. To help our drivers in the St. Charles, St. Louis, and Saint Peters area, we've compiled a library of Nissan safety reviews that will show you all the different systems featured in your favorite models. 
Nissan Altima Safety Review
Nissan Maxima Safety Review
Nissan Murano Safety Review
Nissan Rogue Safety Review
Nissan Sentra Safety Review
Nissan Armada Safety Review
Our Safety Reviews
Our safety reviews are designed to provide our drivers with insight into the different safety systems and features that are included with Nissan models. You'll learn a great deal about the protective airbag systems, the reliable braking systems, and various safety technology that will help you keep yourself, and your vehicle, out of harm's way.
When selecting your next sedan, not only should you think about your safety, but the safety of your passengers. By reading our reviews of the Nissan safety features, you'll see the different degrees of protection that are offered to everyone who steps inside the model. 
How Our Safety Reviews Help
These articles are meant for drivers who are actively researching their next car. Our safety reviews go in-depth when it comes to the active and passive safety features that are equipped in Nissan models. By learning about the safety features, in detail, you'll know full well if the vehicle has enough systems in place to keep you and your passengers protected.
In these articles, you'll even learn about some optional features like driver-assisting technology. These upgradable systems add an extra layer of convenience and security to your driving. Some of these systems have sensors that can help you prevent a collision, or even drifting from a lane. You can tailor the safety features of your Nissan to fit your needs.
All you have to do is look above and find the Nissan model that you're interested in. Then click, and learn all about the different features that keep you and your passengers safe. After you've had a chance to learn about the safety features, learn more about the vehicle by stopping in and seeing the car in person.
At St. Charles Nissan, we're always happy to help drivers in the St. Charles, St. Louis, and Saint Peters area find a vehicle that's right for them.