O'Fallon, MO, is a great place to live and visit with the family. For some fun family activities, head to Dames Park. This 59-acre park offers a variety of activities, such as football fields, playgrounds, concessions, and picnic pavilions. Take the family and enjoy a day outdoors.
Enjoy watching the River City Rascals play at their home at T.R. Hughes Ballpark. The ballpark offers promotional events throughout the summer, so check the schedule to see what's happening when you plan to visit.
Getting Around O'Fallon
To take the family on fun adventures around O'Fallon, you need a car. At St. Charles Nissan, we've been happily supplying the residents of O'Fallon with high-quality Nissan vehicles since 1979.
For your convenience, our entire inventory is available to view on our website. This allows our customers to learn about the Nissan family on their own time, so when they come to our showroom, they already know what they're looking for. You can learn about the latest features that come with our Nissan vehicles. These features include the newest technology like Bluetooth®, navigation systems, and driver-assisting technology.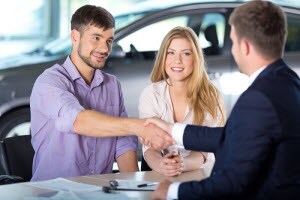 You can learn more about the great features of our Nissan models with our vehicle reviews. These informative articles show you the key features that you want to know about so you can make your decision. And our vehicle comparisons will show you how our Nissan models stack up against the competition. They show the similarities and highlight the differences so you know the advantages that our vehicles have.
St. Charles Nissan Staff and Service
At St. Charles Nissan, our friendly staff is here to help you every step of the way. They'll answer any questions you have regarding our Nissan inventory, and they'll help you get behind the wheel to test drive your favorite Nissan model. Their number one priority is finding you the right car at the right price.
Our service center is at your disposal when you purchase a new Nissan from us. Our team of highly trained service technicians works hard to make sure that your Nissan runs as efficiently as it did the day you drove it off our lot. Their attention to detail speaks volumes. During your visit, they'll even let you know the best time to come in for service according to your Nissan model-specific maintenance schedule.
O'Fallon, MO, Nissan Dealership
We're straightforward with our customers and it shows. This year we received a 2016 Customer Satisfaction Award from DealerRater and an A+ rating with the Better Business Bureau.
St. Charles Nissan can be found at 5625 Veterans Memorial Parkway in Saint Peters. If you're coming from O'Fallon, take Main Street to get on I-70 East toward St. Louis. Take the exit toward I-70 and continue on South Service Road until you reach Veterans Memorial Parkway.
At St. Charles Nissan, we're happy to help drivers like you from the St. Louis and O'Fallon area.