The Automotive Service Center at St. Charles Nissan
Here at St. Charles Nissan, we offer professional automotive service and repair to drivers in the St. Charles, Saint Peters, and O'Fallon areas. We have access to all the latest tools and high-quality parts that allow us to keep your car, van, truck, or motorcycle running at its best. We're committed to providing you with the best service experience available, which includes speedy repairs, so you can get back behind the wheel.
A Better Service Department
At St. Charles Nissan, we realize having your vehicle serviced can sometimes be inconvenient. That's why we work so hard to make it as easy and enjoyable as possible to schedule a service appointment at our service center. Our customer lounge is complete with a variety of amenities to make your stay here more enjoyable. You can also simply drop your vehicle off and we'll call you the moment it's ready. If you have any questions, our service representatives are always available to help you.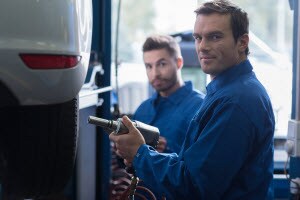 On top of all that, we can also provide you with a free shuttle service, if you prefer not to wait with your vehicle. If your car needs extensive repairs, you can also opt for a loaner vehicle. This rental will keep you mobile until your vehicle is up and running again. That way, your schedule doesn't get interrupted.
Our Gift to You is Exceptional Service
When you're having your car fixed, you deserve to be treated with as much attention and courteousness as any valued customer. That's exactly the kind of environment you'll find at our service department. We pride ourselves in offering the best customer service experience, so you'll feel like you and your vehicle are really being taken care of.
From a simple oil change to major engine repair, there's nothing our service team can't handle. No matter what your vehicle needs, we'll help keep it running smoothly all while offering you're an exceptional customer service experience. If you ever have questions or need assistance, then let us know.
Professional Auto Repair
You should never put off automotive maintenance or repairs-not just because it could potentially cause other more expensive problems, but also because some issues pose a serious safety risk. For drivers in the St. Charles, Saint Peters, and O'Fallon areas, our service center at St. Charles Nissan can help you keep your car performing at its best. If you believe you may need service, then contact us today to schedule an appointment. You can also schedule service online using our fast and simple appointment request tool. If you have any questions, please don't hesitate to ask.