Our drivers in the St. Charles, St. Louis, and O'Fallon area know that oil changes are the most common form of automotive maintenance to have performed on their vehicles. Even though oil changes are pretty routine, there's a lot to learn about what oil does, what type of oil is most effective, and how often you should actually have your oil changed.
Functions of Motor Oil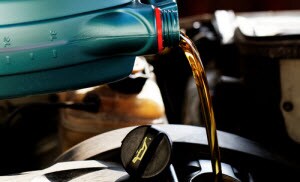 Motor oil was designed to help your vehicle perform at its best. The moving metal parts in your engine are constantly rubbing against each other. Without oil, these metal parts would create more friction, which would result in your engine overheating. The parts would also wear down a lot quicker.
Oil keeps these parts lubricated so they don't cause too much friction or wear out from the constant grinding and rubbing. Oil also helps to clean these parts, but in doing so becomes dirty and requires a change out to keep the process effective.
Types of Oil
There are two types of oil that can go into your vehicle. Conventional oil is made from crude oil and typically for older vehicles (2008 or earlier). This oil is effective, but it doesn't last as long because it gets dirty quickly.
Synthetic oil is mainly used in newer cars. It helps to keep the engine parts clean while lasting much longer than conventional oil. It doesn't require as many changes as conventional oil does.
How Often to Have Your Oil Changed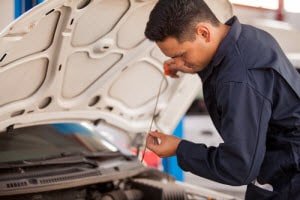 Finding the right time to change your oil depends on your driving style. If you drive normally, meaning that you commute, run errands on the weekend, and get a decent amount of driving in, then you should have your oil changed at around 5,000 miles, according to Nissan's recommendations.
If you have severe driving habits, you should have your oil changed around every 3,000 miles. These habits include driving on rough roads, towing or trailering, and frequent stop-and-go traffic in extreme temperatures. Executing normal driving habits can help you to make your oil last for a much longer time.
Changing the Oil in Your Nissan
For the best results, you should use genuine Nissan motor oil. This oil is specifically designed to help your vehicle perform efficiently. There are different viscosity levels with this oil brand, so be sure to check your Nissan owner's manual to find out which viscosity your specific model needs.
However, you don't have to get your hands dirty because St. Charles Nissan is here to help you keep your vehicle up to speed. Our skilled and certified technicians perform oil changes every day, so they've gotten a lot of practice and perfected the art of the oil change. They're always happy to help drivers in the St. Charles, St. Louis, and O'Fallon area with this simple but important automotive service.
Think it's time to change your oil? Schedule your service with us at St. Charles Nissan.