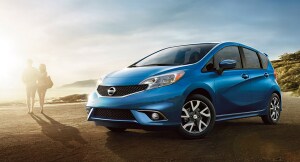 Welcome to the St. Charles Nissan car comparison library. These informative articles are FREE for drivers like you in the St. Charles, St. Louis, and O'Fallon area to better understand our Nissan lineup!
Here you'll find our most up-to-date collection of informative car comparisons. All you have to do is click and you'll be ready to learn about how our Nissan models measure up to the competition.

Importance of Car Comparisons
These comprehensive articles are designed to not only give you a closer look at our vehicles but also a closer look into similar vehicles to showcase the similarities and differences. Vehicles today can be similar, but knowing the differences between them can give you an edge when you're shopping for a new car.
You'll also learn about the latest features that could alter your initial decision as to which car you prefer. Reading these reviews will be extremely valuable in helping you make the right decision. It's a way to let you know exactly what you're getting with our models.
The most important thing you'll learn is how our vehicles compare to others. This is great if you're torn between a few different makes and models. You'll have a clear idea as to what our vehicles offer you. Knowing this is crucial to buying a car, and at St. Charles Nissan, we're happy to help you along the way to getting your next vehicle.
Understanding Our Car Comparisons
Our car comparisons are specifically designed to give you the most important and relevant information. You'll learn about each vehicle's design, engine power, entertainment features, and safety.
We won't bore you with details about areas such as air conditioning or power locks because those are now standard on every vehicle. We'll focus on the new and exciting features like infotainment systems and driver assist technology.
After you've read a few of our car comparisons, you'll be ready to further your vehicle research by scheduling a test drive with one of your favorite Nissan models at St. Charles Nissan. We're happy to help drivers like you in the St. Charles, St. Louis, and O'Fallon area with your research and finding the vehicle that's right for you.