From routine maintenance to collision repairs, at some point, we all need vehicle service. If you are searching around St. Charles, St. Louis, O'Fallon, and Saint Peters, MO, for a Nissan service center, then you've come to the right place.
We at St. Charles Nissan are here to fulfill all your service needs.
Our Service Center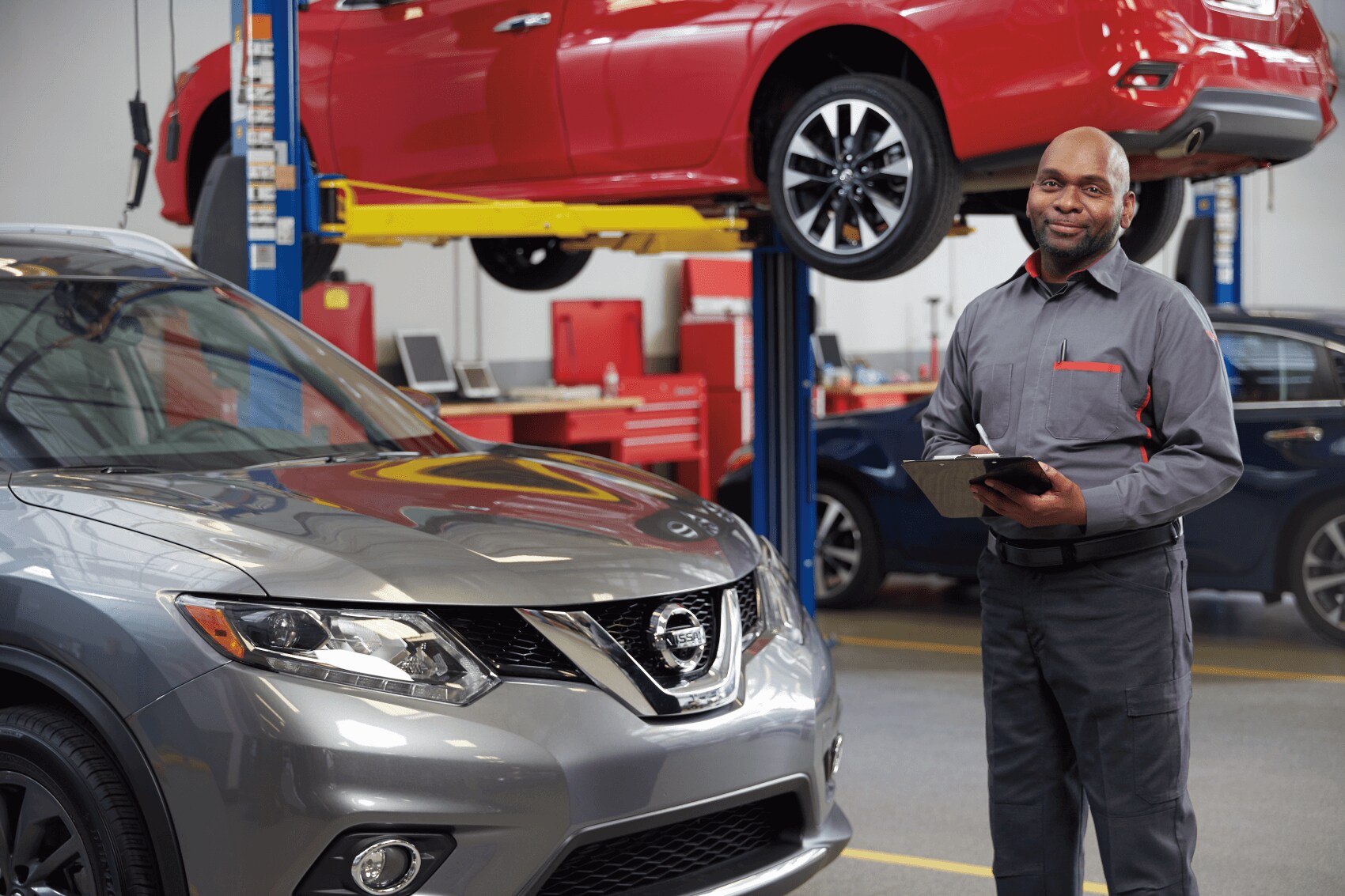 Since we understand exactly how important it is to keep up with your regular maintenance schedule, we made sure to make our service center as convenient as possible. You can make your service appointment by phone or through our website.
If you need your maintenance done quickly, you can utilize our Express Service option. With this, you can get the same excellent service from our technicians, completed faster with no appointment. We will even include a complimentary multi-point inspection with each express visit.
You might also be interested in the Nissan One to One Rewards program. With this, you can earn points for every dollar spent on services at our dealership. You can save these points to put toward the cost of other services, parts, accessories, or even your next Nissan vehicle.
Types of Service
By bringing your Nissan vehicle to our dealership, you can be sure that our factory-trained Nissan technicians will know exactly how to help. Our service experts know your vehicle inside and out and have the tools to offer you exceptional service every time.
Oil Changes
Frequent oil changes are the key to keeping your engine running smoothly for longer. When you come to our service center, you can trust that we have exactly the right kind of oil for your engine. We can also make sure that you're getting oil changes at the right frequency for your vehicle and your driving conditions.
Tires
If you need new tires or just need repairs, our technicians can help. We can get you genuine Nissan tires, designed to fit your vehicle and offer long-lasting reliability. To help increase their lifespan even further, come to us for your alignments and rotations as well. We can even help you find certain deals or specials on tires exclusively offered through Nissan. 
Brakes
Your brakes are the most important system in your vehicle. If they aren't functioning properly, you are bound to have a problem. From brake pads to brake fluid and everything in between, our technicians can repair them with genuine Nissan parts built for your vehicle.
Batteries
When you bring your vehicle to our service center, we can test your battery health to make sure it won't die suddenly and catch you off guard. Then, whether you need it repaired or replaced, we can get you back on the road. Our service center has the means to keep your Nissan vehicle running for longer.
How We Can Help You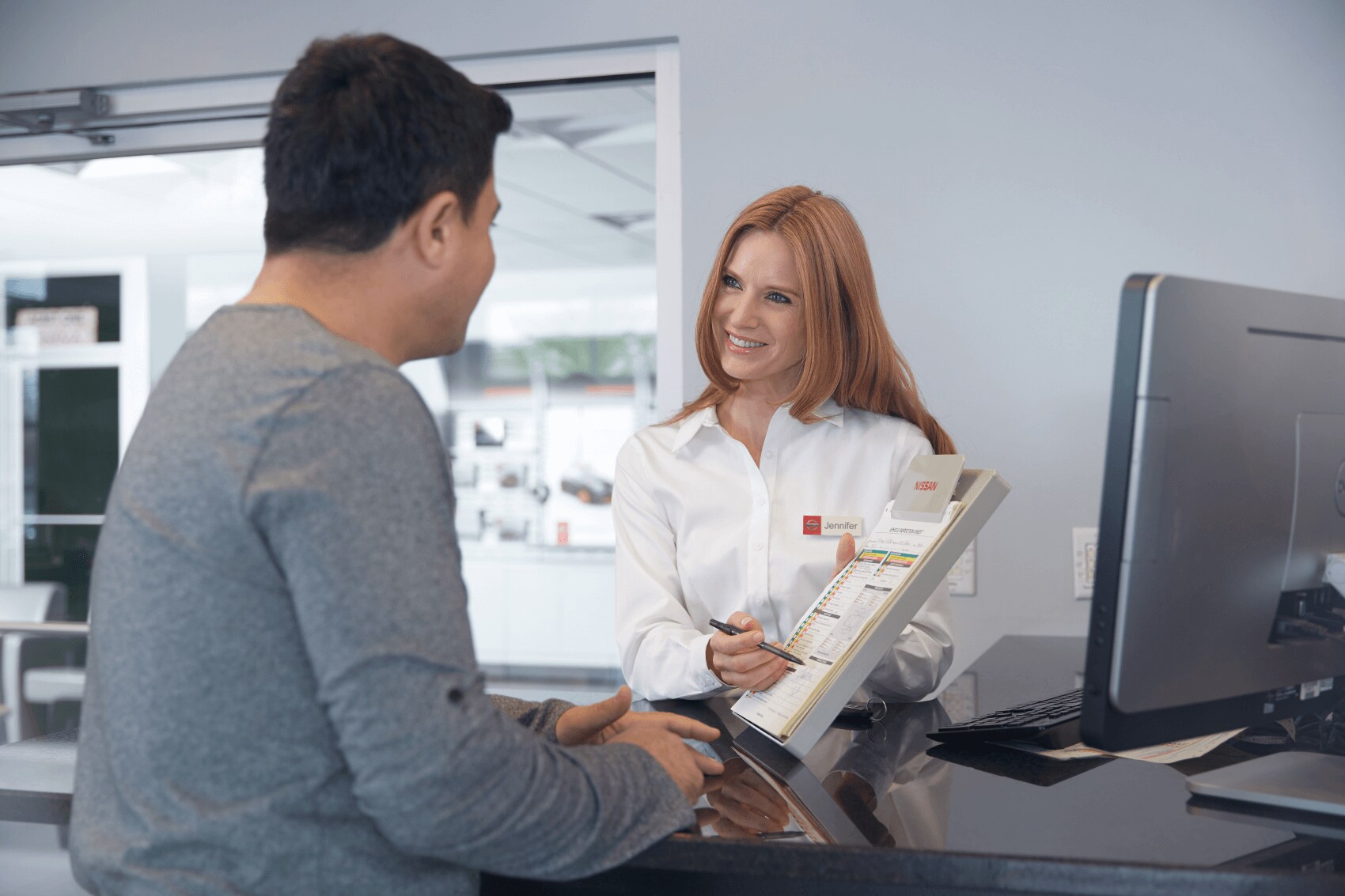 With all the ways we've made caring for your vehicle easy, you may find yourself around our dealership often. If you find yourself at our service center for an extended period of time, enjoy our selection of amenities such as Starbucks coffee, water, and snacks. Have a seat in our comfy waiting area and enjoy the complimentary Wi-Fi connection.
We also offer financing for the cost of repairs and parts, to make sure you can get the service you need when you need it. Additionally, you can look into our specials to find deals on many services, parts, and accessories. To see what specials we have available, check out our Specials Page or ask a member of our team. 
Nissan Services at Your Local Dealership
Keeping your vehicle in top condition is essential to stay safe on the road around St. Charles, St. Louis, O'Fallon, and Saint Peters, Missouri. If you are looking for any kind of maintenance, repairs, or parts for your vehicle, contact us as soon as possible.
When looking for Nissan services, don't wait, schedule a visit to St. Charles Nissan!