The Nissan Sentra is a competitive option in the compact car class. It offers many enticements, including space for four people in comfortable seats, powerful engine options, and all the technology you need to make the ride enjoyable. It also has some excellent fuel economy, making it the perfect choice for a daily driver.
Drivers in St. Charles, St. Louis, O'Fallon, and St. Peters can learn more about the 2021 Nissan Sentra miles per gallon with our in-depth fuel economy review.
---
Nissan Sentra Powertrain and Drivetrain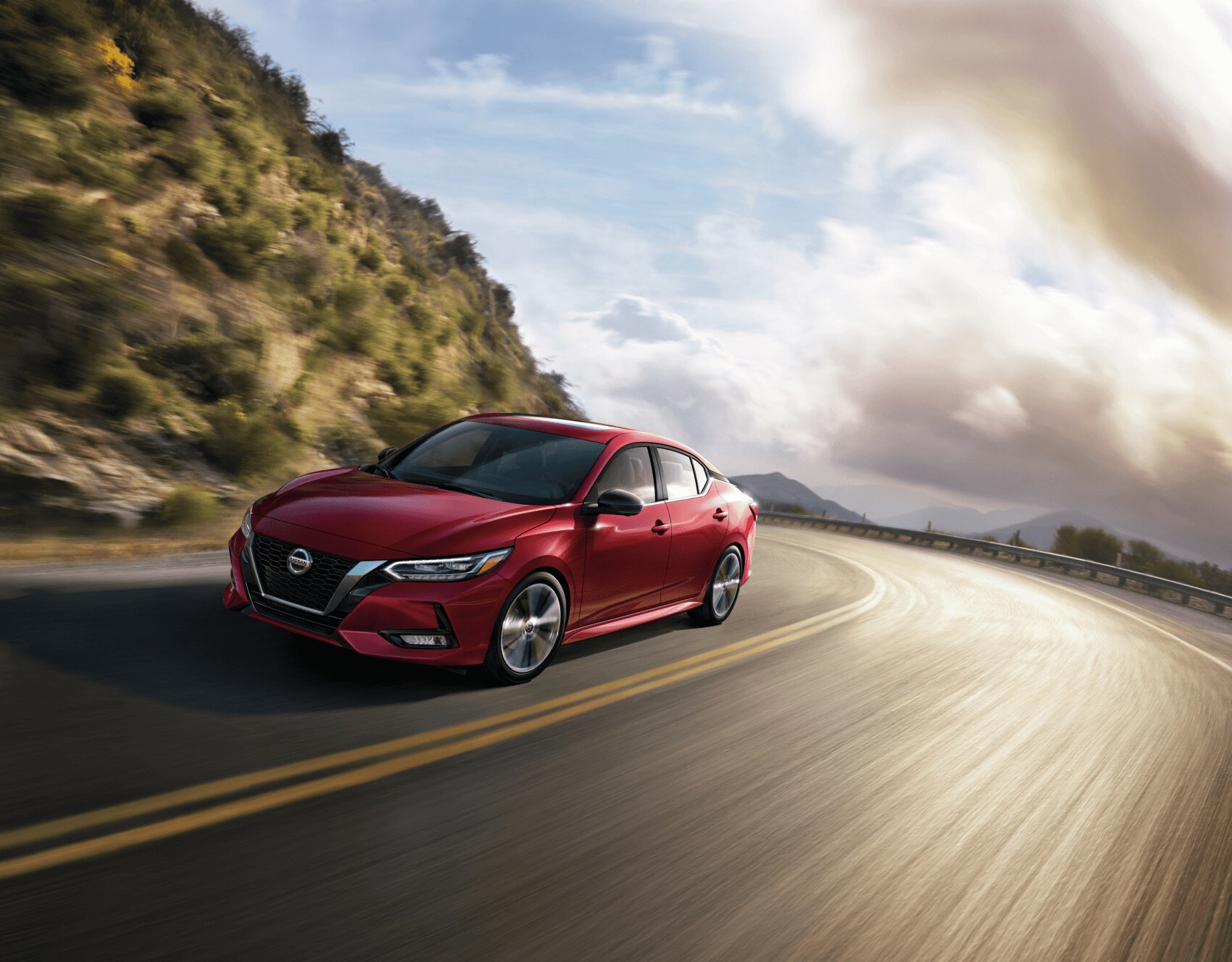 The Sentra comes with a 2.0-liter Direct Injection Gasoline™ (DIG) DOHC 16-valve 4-cylinder engine that produces 149 horsepower and 146 lb-ft of torque.
Additionally, each trim of the Nissan Sentra is front-wheel drive (FWD) and has an Xtronic CVT® (Continuously Variable Transmission). By having a Continuously Variable Transmission, the Nissan Sentra allows for an incredibly smooth ride.
You also get the benefits of better fuel efficiency than a traditional automatic, so you can drive your Nissan Sentra further than ever before without the need for frequent fuel stops.
All in all, the engine and drivetrain on the 2021 Nissan Sentra are designed for maximum efficiency, ensuring you have the power you need for any driving situation. The engine power is optimized, which gives you the best possible fuel economy.
---
Nissan Sentra MPG By Trim Level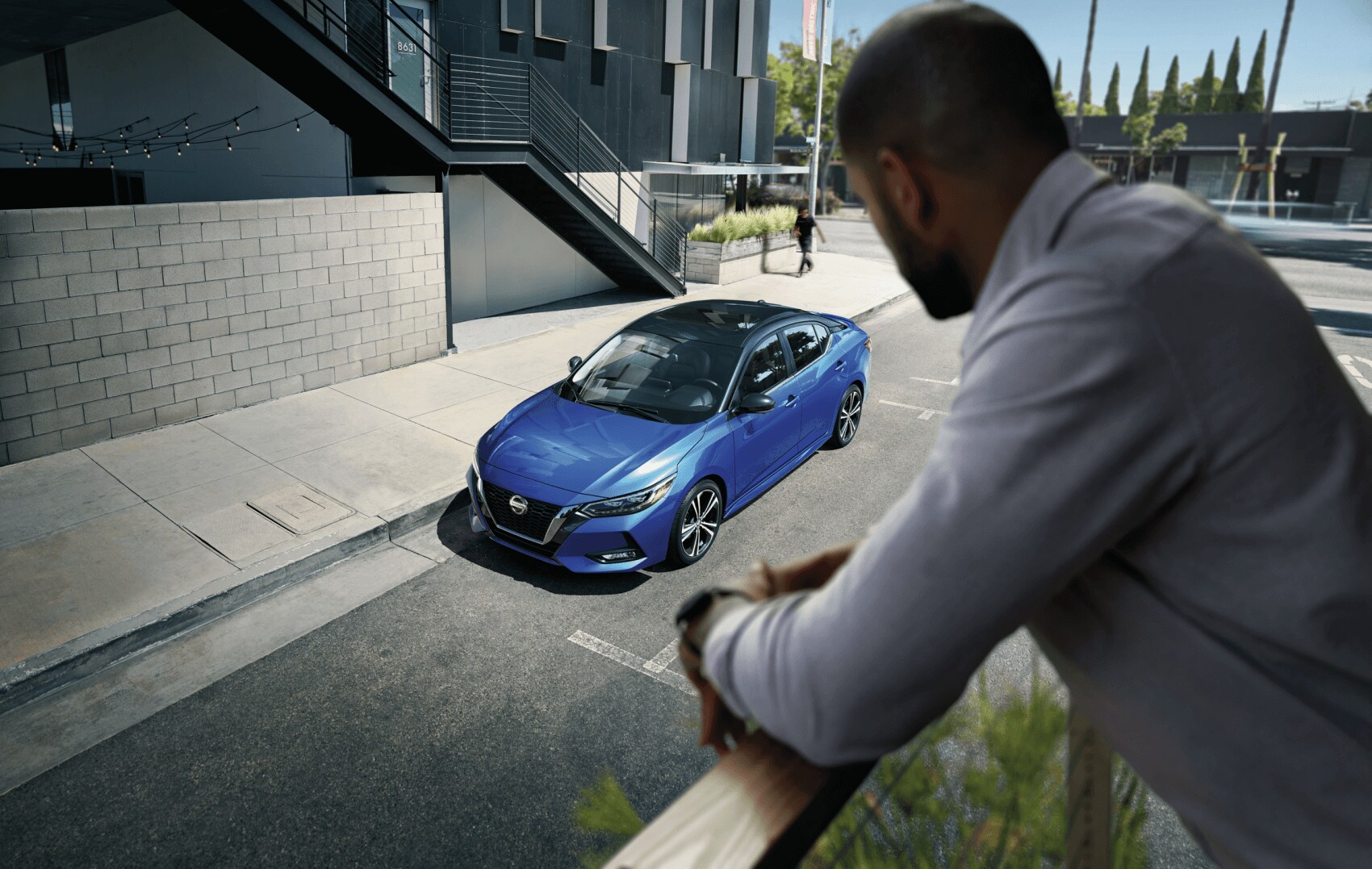 The 2021 Nissan Sentra comes in three trim levels:
Nissan Sentra S
Nissan Sentra SV
Nissan Sentra SR
Across all three trim levels, you still have excellent miles per gallon. From the base to the top-of-the-line model, there are no compromises on efficiency. Based on trim level, here is the EPA-estimated fuel economy for each Nissan Sentra:1  
| | | |
| --- | --- | --- |
| Nissan Sentra S | 29 city MPG | 39 highway MPG |
| Nissan Sentra SV | 29 city MPG | 39 highway MPG |
| Nissan Sentra SR | 28 city MPG | 37 highway MPG |
As you can see, no matter which trim level you go for, you can efficiently run errands or go on a road trip without having to stop for fill-ups frequently.
The 2021 Nissan Sentra is an excellent choice for those who want no compromises on performance and fuel economy while behind the wheel of a stylish sedan.
---
Versatility, Comfort, and Technology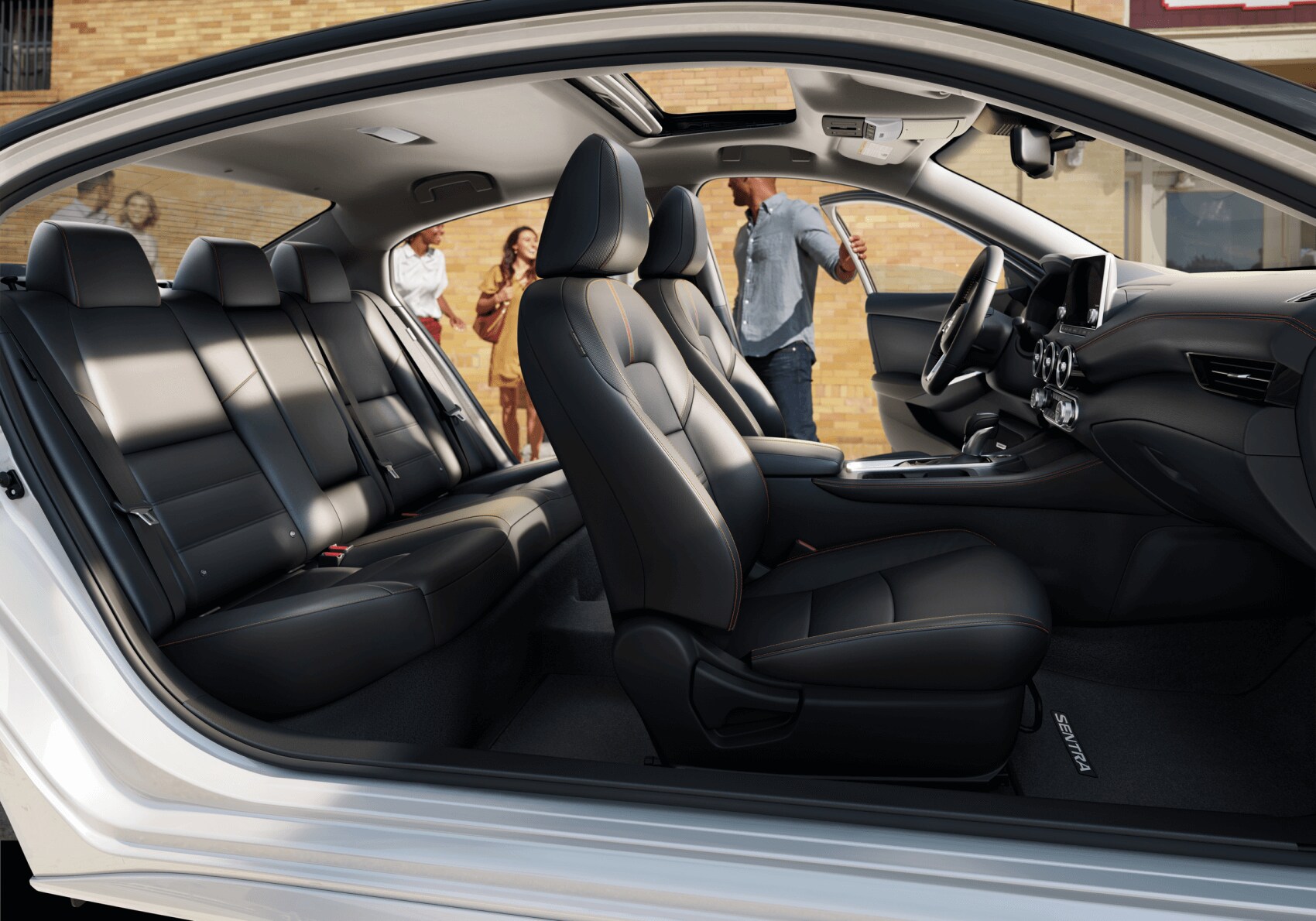 With these powerful engine options and exceptional fuel economy, the Nissan Sentra is already a fine choice in the segment.
In addition to the Nissan Sentra MPG, however, it also has a spacious, comfortable cabin that uses soft-touch surfaces and high-quality materials that provide a luxury feel, as well as excellent visibility for passengers to enjoy the ride.
The technology is exciting, with such features as the NissanConnect® infotainment system, Bluetooth® connectivity, satellite radio, and HD Radio™.
Driver-assistance technologies are available as well, along with a variety of advanced safety features that keep you aware of the area around your vehicle and alert you to a potential collision.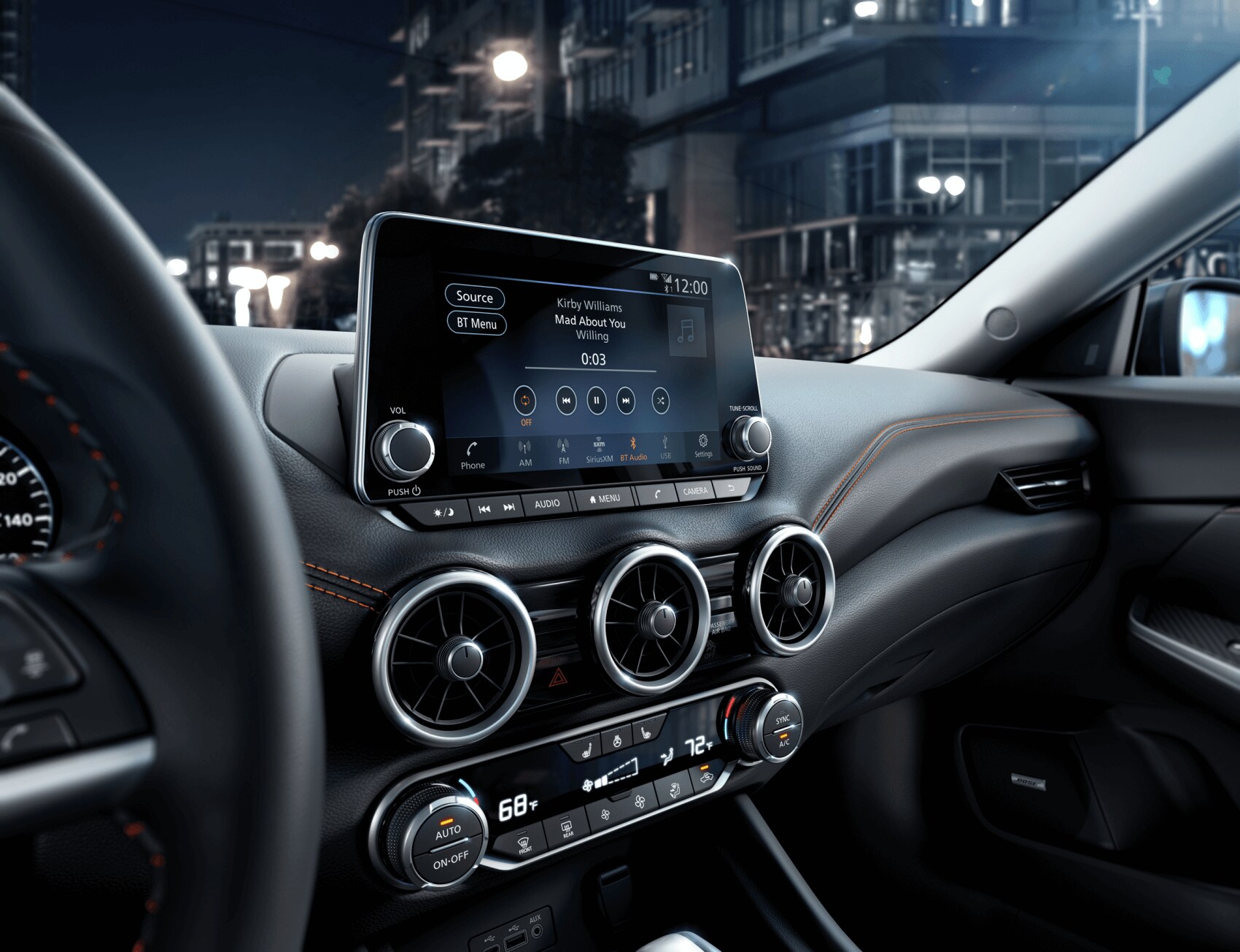 With features like standard Apple CarPlay® and Android Auto™ integration, you can connect your smartphone hands-free. Do things like:
Make calls.
Listen to music.
Respond to texts.
The Nissan Sentra makes it easy to stay connected wherever you go. Plus, since so much of it is wireless, you don't even have to take your hands off the wheel to get the most out of the Nissan Sentra's technology.
---
Get the Most Out of Your Nissan Sentra's Miles Per Gallon
If you're looking to purchase the 2021 Nissan Sentra, you may be wondering how you can maximize its fuel efficiency. Though MPG can vary depending on a wide variety of factors, there are some handy ways to ensure that you get the most out of your MPG:
Observe speed limits: Reducing unnecessary speeding can do wonders for your fuel tank.
Take advantage of cruise control: Minimizing dramatic speed fluctuations can help reserve fuel.
Avoid excessive idling: Like all cars, the Nissan Sentra's engine can consume one quarter to one-half gallon of fuel per hour when idling.
Plan your trips: While you can still have spontaneous joyrides, strategically planning your travels can help boost your MPG.
Avoid heavy traffic: If you are consistently stuck in bumper-bumper traffic, you may notice a dip in your fuel. Instead, if possible, avoid high-traffic times or areas.
With these tips, you can get the most out of your Nissan Sentra's miles per gallon and maximize its already impressive fuel economy.
---
Nissan Sentra: Maintenance and Miles Per Gallon
It's no secret: A well-maintained vehicle may have better miles per gallon than one that skips out on service. If you're looking to be a 2021 Nissan Sentra owner, here are some helpful service tips that can help maximize your MPG:
Get rid of unnecessary heavy items: If you have many personal items in your trunk, you may notice your fuel dipping. Try eliminating things that you don't need in your Nissan. Not only will your car be more organized, but you may see slightly better MPG.
Use the proper oil for oil changes: When it's time to change your Nissan Sentra's oil, always use the recommended type. If you need assistance with service, our dealership is here to help you out.
Ensure your tires are properly inflated: Underinflated tires may cause your Nissan Sentra to start rolling with resistance, which can reduce fuel economy.
In addition to these tips, make sure to keep up with routine service. If you need a resource, the Nissan Sentra owner's manual will outline the necessary service at the correct intervals, so you can have confidence when it's time to come in for a routine check.   
You May Also Like:
---
Experience the Nissan Sentra Miles Per Gallon in Person at St. Charles Nissan
With its performance, fuel economy, features, and comfort, the Nissan Sentra is an excellent choice for an all-around vehicle, and there's plenty of value to be found in its lineup.
Drivers in St. Charles, St. Louis, O'Fallon, and St. Peters can experience the Nissan Sentra MPG for themselves by visiting St. Charles Nissan. Call or stop by our dealership today to schedule your test drive!
1 2021 EPA Fuel Economy Estimates. 29 City MPG / 39 Highway MPG / 33 Combined MPG for Sentra® S, SV; 28 City MPG / 37 Highway MPG / 32 Combined MPG for Sentra SR. Actual mileage may vary with driving conditions. Use for comparison only.