In order to get the best results for your Nissan, you need to make sure that everything is up to specification. There are a variety of different systems to check, but one of the most important and overlooked aspect is tire pressure. Having the right tire pressure can make all the difference when it comes to how the vehicle handles on the road.
In this article, we'll explain the benefits of having the right tire pressure, what can happen when your tire pressure is low, and the right tire pressure for your Nissan. By reading this article, you'll learn a great deal about how important tire pressure is to your Nissan when you're out on the roads throughout the St. Charles, St. Louis, and Saint Peters area. 
The Benefits of Having the Right Tire Pressure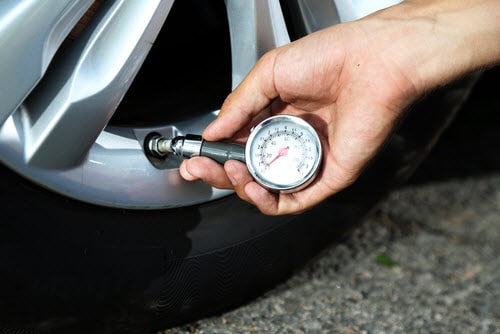 Having the right tire pressure is almost as important as having a fully functioning braking system. When your tires are at the right pressure, your vehicle is at its most stable on the road. Your tires will have the most traction and will provide you with great handling.
Tires with the right PSI (pounder per square inch) can provide you with stellar cornering and braking. Your vehicle's active safety features work better when your tires are at the appropriate level. You'll even get the most out of your fuel economy at the proper PSI. 
What Can Happen When Your Tire Pressure is Low
If your tire pressure is too low, too much of the tire's surface area will touch the ground. This can cause friction, which will start to prematurely wear your tires down. You'll notice a rockier ride, and your vehicle won't brake as well as it typically would with normal tire pressure. Over time, your tires will overheat and the tread will begin to separate. Once your tread separates, your tires could rip or burst when you're out on the road.
Your tires pressure shouldn't be too high either. If your tires are overinflated, you'll notice a lot of bounce. That's because less of the tire is touching the road. Over time, while driving on overinflated tires, your traction will begin to decrease and your tires will become less effective at gripping the road and keeping your vehicle stable. 
The Right Tire Pressure for Your Nissan
For the best insight into the appropriate tire pressure for your specific Nissan model, you should check your owner's manual. Most Nissan models operate effectively when their tire pressure is around 32 to 36 PSI, but you want to be sure that you're driving on the correct pressure.
Your vehicle is also equipped with a Tire Pressure Monitoring System. This feature will notify you when one or more of your tires is underinflated. It will light up on the dashboard to let you know that you need to fill your tire back up to its appropriate level. 
If you'd like more information on the benefits of the right tire pressure, your Nissan model's PSI, or best practices when filling your tire up, contact us at St. Charles Nissan. We're always happy to help drivers in the St. Charles, St. Louis, and Saint Peters area with their automotive needs.