Without motor oil, your engine wouldn't be able to do its job. That's why it's so important to diagnose issues with your motor oil, so you can get them fixed as soon as possible. However, even if you're a car buff, it can sometimes be difficult to spot these issues on your own.
To help you and other drivers in St. Peters, St. Charles, and O'Fallon get a better idea of what you should be looking for, our team at St. Charles Nissan has put together this symptoms of low engine oil guide.
Low Engine Oil Warning Signs
1. You'll Smell Burnt Oil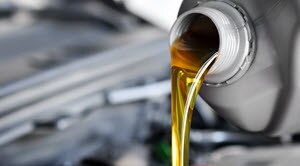 If, at any point, you're sitting in the cabin of your car and get a whiff of burnt oil, you need to have your engine checked as soon as possible. This is especially true if this burnt oil smell is mixed with the smell of exhaust smoke.
The smell of burnt oil can simply indicate that your motor oil is low. However, it can also indicate that there's a bigger, more pressing issue occurring inside of your engine or motor system.
2. Your Check Engine Light is On
Your dashboard is equipped with a number of lights that let you know when something in your vehicle is faulty or malfunctioning. Some lights just let you know when a system in your car in on, like the high beams. However, there are lights like your engine oil light that indicate an issue.
When you see your engine oil light on, it can mean a couple of different things. The most common issue indicated by this light, though, is that your oil level is low.
3. You Can Hear Knocking
Motor oil's purpose is to lubricate the parts of your engine. When there isn't enough engine oil to keep the parts moving smoothly, heat and friction between the unlubricated parts can make an array of unsettling noises, like knocking and grinding.
Of all the symptoms in this guide, this is probably the one you want to take the most serious. Lack of oil directly affects your engine rods, which can break under the friction that comes with low oil. This can cause extensive and costly damage, if you don't take care of it immediately.
How to Check Your Engine Oil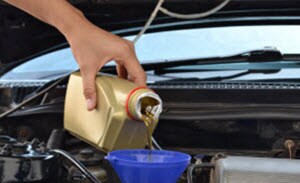 You may never have to experience any of these symptoms if you're proactive to prevent low oil levels in the first place. Luckily, this only requires a few quick and easy steps!
First, you'll get under the hood after your engine has cooled down. You don't want to be doing this right after you've turned the car off. Find the oil dipstick, pull it out, and wipe it clean with a cloth. Once you've located the min and max lines, gently put the dipstick back into the oil pipe.
Pull it out again and assess where the line falls between min and max. If it's getting close to min, you'll need to top off the oil.
Save on your oil change with our Nissan Service Specials...
Is Your Engine Oil Running Low? Schedule Your Service Today!
We at St. Charles Nissan are happy to provide resources like this guide to drivers in in St. Peters, St. Charles, and O'Fallon. If you believe that your oil levels may be low or you're experiencing any of these symptoms, give our service center a call to schedule an appointment today!