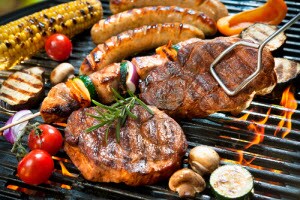 Nothing satisfies your hunger pangs quite like barbecue. This delicious and savory cooking style is usually considered a southern cuisine, but you don't have to travel to Texas or the Carolinas just to sample some delicious smoked and smothered meats when you can get them right in your backyard. Here's your list of the top three BBQ spots in Saint Peters.
Bandana's BBQ
Bandana's BBQ began selling their smoky flavors to the east Missouri area in 1996, and since then they have become a name in BBQ. This southern-style BBQ spot delivers the goods with their wood pit smokers, which are tended to 24 hours a day to ensure that the fires are evenly stoked to produce perfectly smoked meats.
Upon visiting Bandana's BBQ, the smell will transport you to a different place. You can please numerous senses with the family-style feasts menu. The BAR-B-Q for Four features ribs and a whole chicken with your choice of pork, beef, turkey, or sausage, all topped with garlic bread. This dish also includes four sides, like fried green beans, sweet cut corn, potato salad, or homemade applesauce.
Big Woody's BBQ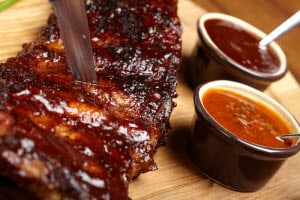 Big Woody's BBQ has been touted as one of the best BBQ eateries in the state of Missouri. This family-owned and -operated restaurant provides authentic smoked BBQ. You can keep it simple with one of their signature sandwiches like the Hog Fire, which features pulled pork on Texas toast with ghost chili hogfire BBQ sauce.
If you're looking for an adventure, you can order their famous porksteaks. This thick-cut pork entrée delivers deliciously smoked pork with your choice of two sides. You can get fried corn on the cob, fried pickles, or their famous hog balls, which are buttermilk hushpuppies stuffed with pork, sharp cheddar, bacon, and onions.
Stumpy's House of Bar-B-Que
If you're looking for hickory-smoked meats and fish, you may want to visit Stumpy's House of Bar-B-Que. This family-owned business has been offering their delicious flavors to the St. Charles area since 2004. Utilizing homemade dry rub and sauces, Stumpy's delivers satisfying BBQ. You can start with a variety of their delicious appetizers like their famous smoked chicken wings.
If you came to eat, you can order a plate. You have the option of pulled pork, pulled chicken, turkey, Andouille sausage, beef brisket, a half chicken, pork steak, ribs, or chicken wings.
If you're having trouble deciding which dish you want, you can always go with the combo plate. This menu option allows you to select three meats along with two sides, which include fries, cole slaw, potato salad, beans, green beans, or fried corn cobettes.
Here's your list of the top 3 BBQ spots near Saint Peters, MO. Pick your favorite spot and don't afraid to get messy with some mouthwatering barbeque.