If you live in the St. Peters, St. Charles, or O'Fallon area, then you know the significance of a properly running vehicle. One of the ways this happens is through a functioning transmission. If the transmission isn't working, then the vehicle won't run effectively.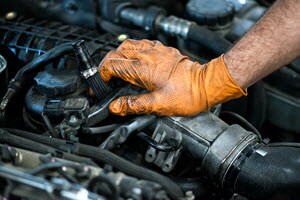 If your transmission has an issue, then you'll need to take your car to a nearby reliable service center. Our team at St. Charles Nissan knows all about transmissions, including its importance and some warning signs to look out for. We'll go over everything you need to know, and are here to answer any questions that you may have.
What's So Important About the Transmission?
The transmission shifts the engine's gears, which transfers power to the wheels, moving the vehicle forward. It's made of up of many different parts, including the bell housing, gears, fluid, and filter. If there's an issue with any of the parts of the transmission, then the vehicle can stall, causing a major issue.
So how do you if there's a problem with the transmission? You can look out for certain warning signs, including...
Leaking transmission fluid: If you see red fluid underneath your vehicle, then you know there's a leak and you'll need to take your vehicle to an auto repair shop right away.
Burnt, cloudy fluid: Transmission fluid is typically bright red in color and has a distinct sweet smell. If the fluid is dark or opaque, or has a burning smell, then there's a problem with the transmission.
Grinding between gears: When changing gears, if you hear a grinding sound with a manual transmission or a shaking/shimmying in an automatic transmission, then there could be a worn clutch or other issue.
Transmission Repair St. Peters, MO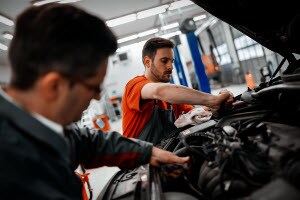 If you notice any of the above-mentioned warning signs, then bring your car to our service facility as soon as you can.
Our state-of-the-art repair shop compromises of a team of certified technicians who have years of experience working on all types of vehicles and transmissions. No matter what type of minor or major service you need, they'll work quickly and efficiently to get your vehicle running normally again.
No job is too big or too small, and they'll use only genuine parts, so you can rest assured that your car is getting the kind of care that you deserve.
Schedule Transmission Repair Today
If your vehicle needs a transmission repair or replacement, either call us at St. Charles Nissan or schedule an appointment online. We'll confirm a day and time that work best for you so that you can get back to driving around St. Peters, St. Charles, or O'Fallon as soon as possible.