St. Louis has many nicknames, like "Gateway to the West," "River City," and "The Lou." But most people simply call it "home." St. Louis has much offer in terms of culture, art, and lifestyle. Getting around this iconic city just isn't the same without a car to call your own. But you don't have to start looking at this year's latest models. You can easily find a high-quality used car at St. Charles Nissan. 
Vast Online Inventory
Even though we're a used car dealer near St. Louis, you don't have to leave the city just to browse our inventory. You can do that from your own home by visiting our website. You can easily see all the latest models we have in our pre-owned inventory.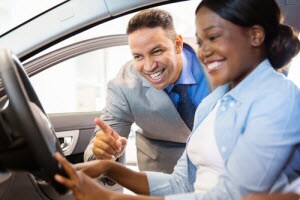 You don't have to spend all day sifting through the many pages of our used car inventory. You can get the best results by using our search filters. You can browse by model, make, year, mileage, and features. If you've always wanted a vehicle with a sunroof, memory seats, or a premium audio system, you can easily find vehicles that meet your specifications. 
Customer Service Experts
At St. Charles Nissan, you don't get the typical used car experience. As a used car dealer near St. Louis, we've heard the tales of the terrible experiences that drivers had when shopping for a used car. We break the mold by going out of our way for our drivers by being helpful and informative. We'll happily give you a tour of our used car inventory to show you what we currently have in stock.
As you're making your way through our used cars, you'll see a few that stick out to you. When you're ready, we'll put you right behind the wheel so you can take it out for a spin. The test drive is one of the most helpful ways to solidify your decision. You'll get a feel for how the vehicle handles, and you'll even get to check out its interior. By the time you roll back into our dealership, you'll know if you've just driven your new car. 
Efficient Automotive Service
We're more than just a used car dealer near St. Louis. We're actually your destination for premier automotive service and maintenance. Our service center is stocked with the latest automotive tools and technology that our highly trained technicians use to make sure your vehicle receives the proper care. Whether you need routine maintenance, or a more complex repair, we'll gladly help you bring your vehicle up to speed and ready to face the open road. 
Getting to St. Charles Nissan
St. Charles Nissan is located at 5625 Veterans Memorial Parkway. Getting to our used car dealership from St. Louis is simple. Head west on I-64 and take Exit 25 S. for I-270 N. Use the right lane to take the Kansas City/ I-70 E. Exit. Keep left at the fork to continue on Exit 20B and merge onto I-70 W. From there, take Exit 225 for Cave Springs and make a right onto Veterans Memorial Parkway. You'll see our dealership on the left.
At St. Charles Nissan, we're always happy to help St. Louis drivers find a used car they can rely on.