If you're looking for a reliable truck to easily navigate the streets of St. Charles, St. Louis, O'Fallon and Saint Peters, then the 2017 Nissan Frontier is the premier choice for you. This trusty truck is capable of carrying and hauling cargo, whether you're working hard on a job or taking the family on a camping trip.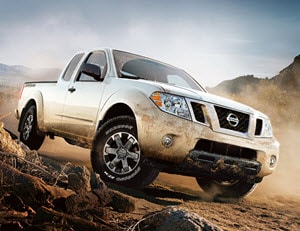 Before you buy your 2017 Nissan Frontier, you need to know which version you're going to get. In this detailed review, you can learn the differences among the five 2017 Nissan Frontier trim levels and discover which version is best suited for you.
King and Crew
Like most trucks, the Frontier offers different cab formations for almost all trim levels to better meet all your needs. For the Frontier, you can choose between King and Crew. King cabs feature a longer bed with less room up front for passengers. If you need a work truck, this is the one for you. The Crew cabs have a slightly shorter bed, but the cabin has plenty of room and can comfortably seat five. If you plan on having passengers in your truck frequently, then the Crew cab will serve you just right.
S
We begin with the baseline model S trim. Despite being the start of Frontier trim levels, it has a lot to offer, from Bluetooth® connectivity, to stability and traction control. Normally, driver assistance features like that are reserved for higher levels, but with the Frontier, you can enjoy it from the beginning.
SV
The most obvious upgrade here is the infotainment system. With integrated voice recognition software and smartphone connectivity, you can enjoy all your favorite apps while you drive. This trim is also more convenient, with keyless one touch entry to get in easily and wheel controls for your media to safely find just the right song.
Desert Runner
As the name would suggest, the Desert Runner trim is ideal if you plan on taking the Frontier off-road. This trim comes with advanced suspension, tires, iridium tipped spark plugs and additional storage to facilitate any adventure you might want to embark on. This trim also features a trip computer, which can give you a proper sense of direction when you go off-road.
PRO-4X
The Desert Runner trim is great if you want to go off-roading every now and then, but the PRO-4X is the way to go if off-roading is a significant part of your life. It features every aspect of the Desert Runner and more. You get specially-tuned shocks, hill descent control and rear locking differential. Even the trip computer is updated with an external temperature display. For added convenience, the headlights automatically turn on when it gets dark out.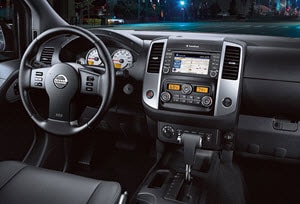 SL
If your desire is luxury, the SL is the perfect trim for you. This trim is only available with the Crew cab, but it gets a special version of it with a longer bed, so you can enjoy more space inside and out. Leather and heated seats are also standard, and even the mirrors are heated at this level. While it's probably not a good idea to take this version off-road, the SL is the premier choice for driving through the city.
Test Drive the 2017 Nissan Frontier
Although reading about the differences in trim levels is helpful, the best way to understand is to experience the 2017 Nissan Frontier for yourself. If you live in the St. Charles, St. Louis, O'Fallon or Saint Peters areas, you can test drive the Frontier at your local St. Charles Nissan. Our friendly staff is happy to offer all the knowledge and help you with the 2017 Nissan Frontier trim levels. Visit us or call (888) 375-3511 to schedule your test drive today!