You already know how important the brakes in your vehicle are. Still, do you really know how it works? Luckily, our talented team at St. Charles Nissan does, and is ready to give you the run-down on two of its most vital components: the brake pads and the brake rotors. Car owners in St. Charles, St. Louis, O'Fallon, and Saint Peters can keep reading to learn more.
Schedule service for your vehicle today.
Brake Pads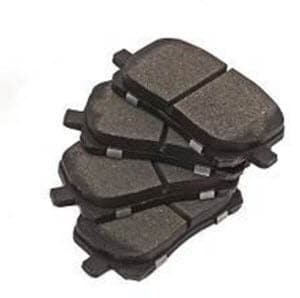 Simply put, brake pads are rectangular pads made from steel and friction material. The steel plate that gives the pad its shape has a thick layer of friction material, which can be ceramic, metallic, or organic material, on the side facing the rotor that it presses against. Brake pads range in durability from very soft to very hard, depending on your manufacturer's recommendations.
The brake pads are connected to the brake calipers. Together, they behave like a clamp that immobilizes the brake rotors by clamping down on them. This component clamps down when the driver presses on the brake pedal.
Using your brakes gently and properly is crucial to getting the most out of them. This means applying pressure gradually to come to a slow stop, not slamming on your brakes, which can damage or wear down your brake pads at a faster rate.
Brake Rotors
The brake pads work very closely with another vital part of the braking system, which is the brake rotors. The brake rotors are more commonly referred to as brake discs because of their flat and circular disc shape.
These discs are located on the axle between the clamps of the brake calipers, and can be made of a few different hard materials, like steel or grey cast iron. There are several different variations of how these discs are made, too. They can either be solid or hollowed-out.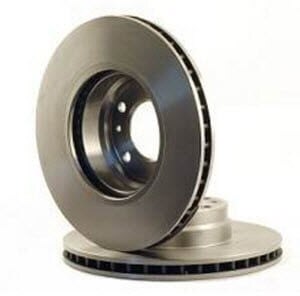 Solid brake rotors are more suited for smaller or lighter vehicles that are less likely to overheat when using the brakes. On the same note, hollowed-out brake rotors ventilate themselves to prevent brakes from overheating in vehicles carrying or trailering a lot of weight.
The Difference Between Pads and Rotors
Now that we've covered what brake pads and brake rotors are and what they do, let's talk about the major differences between these two parts.
The key difference between brake pads and brake rotors, aside from what they're made of, is that they need to be replaced on different schedules. Since brake pads are made of softer materials, they need to be replaced at least every 50,000 miles. You can wait a bit longer for brake rotors, which can last as long as 70,000 miles. Keep in mind that these mileages are based on the idea that the brakes are being used properly.
Learn More
We hope this guide taught you a lot about brake pads and brake rotors. However, drivers in St. Charles, St. Louis, O'Fallon, and Saint Peters may still have questions about the brake system, as well as other systems in their vehicle. We're here to help! Just give us a call at St. Charles Nissan and one of our dedicated team members would be happy to answer any questions you have.