You may not give much thought to your vehicle's maintenance and service, but one area you should never neglect is your braking system. Your brakes are a vital safety feature of your vehicle, so they always need to be working properly and effectively. We, at St. Charles Nissan, put together this guide to help you know when you need to have your brakes replaced.
We want the best for our customers in St. Charles, St. Louis, O'Fallon, and Saint Peters, so read on for the signs you need your brakes replaced.
Common Brake Replacement Warning Signs
Fortunately, there are two surefire signs that your brakes need to be replaced, both of which you can decipher for yourself.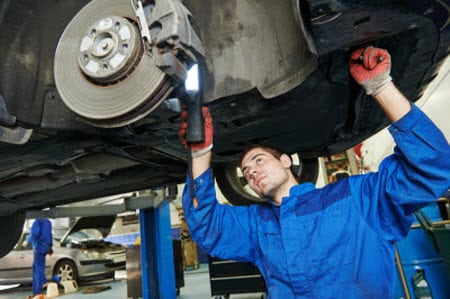 The simplest way is to visually check for brake pad wear. You can do this by looking at your brake pads through the spaces in the wheels. The outside brake pad is found up against the brake rotor, and ideally, you should see at least one-quarter inch of brake pad. If there's less than that, it might be time to have your brake pads checked by a service technician.
The second way isn't something you could check for, but rather a clue that will be unmistakable. If you hear a high-pitched squealing, screeching, or grinding sound when you hit the brakes, it's a definite sign that your brake pads need to be replaced. This comes from a built-in metal indicator strip that's specifically designed to warn you of low brake pads, so you should always make an appointment if you hear it.
There is one exception to this sound, however. If your vehicle has been sitting for an extended period of time, especially if it's been exposed to water, a thin layer of rust can form on your brake rotors. This rust will wear off as you drive, but it can cause your brake pads to squeal or squeak until that happens.
Additional Signs of Brake Wear
Aside from the more obvious signs, you can pay attention to some subtle indicators that your brakes need to be replaced.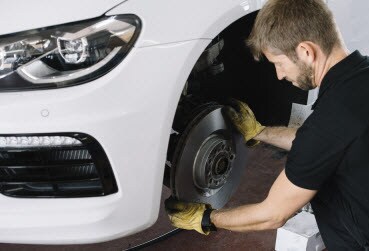 If you experience decreased performance from your brakes, such as a pedal that goes all the way to the floor or less effective braking, this could indicate such problems as a brake fluid leak or an air leak in the brake hose. In either case, your vehicle will need to be serviced soon.
If your vehicle pulls to the right or left, this could indicate that your brakes are wearing unevenly or there's something in the brake fluid. This situation requires brake service.
If your vehicle vibrates when you apply the brakes, your brake rotors may be warped or damaged, though it could also mean that your vehicle needs an alignment. This can feel similar to road feedback from a sudden braking system, if the vehicle has an anti-lock braking system. When this occurs in a situation that doesn't engage the anti-lock brakes, it's most likely caused by warped brake rotors.
Schedule Your Brake Appointment at St. Charles Nissan
Your brakes could be easily overlooked until there's an issue, but the best way to keep them working properly and safely is to have them inspected and serviced regularly. This not only keeps you safe on the road, but it also helps you avoid costly repairs or accidents in the future.
If you're in St. Charles, St. Louis, O'Fallon, or Saint Peters, and you notice signs you need your brakes replaced or serviced, call Charles Nissan to schedule your service appointment!