Winter is in full swing and that means, among other things, dying car batteries. Nobody wants to head out to work in the morning, turn their key, and be met with a slow turnover then nothing (or worse, no turnover at all). Did you know that it's possible to monitor your battery on a regular basis so you'll never be caught off guard by a dead battery?
It's true and not difficult at all. You can do it yourself or at a local car parts dealership or you can take it to the mechanic, and it only takes about five minutes.
Learn how to check car battery voltage on your vehicle so you're always aware of just how much power you've got and you're never left out in the cold.
Check Car Battery Voltage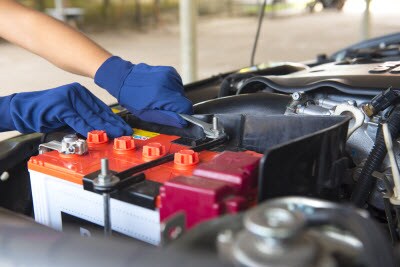 You should check your car battery voltage on a regular basis. This will let you know that your battery is showing signs that it might be weak, and you can address the problem before it becomes crippling. Most experts recommend performing this test twice per year.
Generally, a charged car battery should carry 12.6 volts or higher. With the engine running, this voltage will increase to between 13.7 and 14.7 volts.
Performing a Sight Check
The tool you use to check battery voltage is called a multimeter. If you don't have one of these, you can still perform a basic electrical system test. Turn on your vehicle then turn on the headlights. Look to see if they are bright or dim. If they're dim, they're drawing from the battery and not the alternator. If they brighten when you press down on the gas, your alternator is helping but isn't keeping your battery charged at idle.
If, on the other hand, the lights are bright and steady and their intensity stays the same when you rev the engine, the system is likely functioning as it should.
Using a Multimeter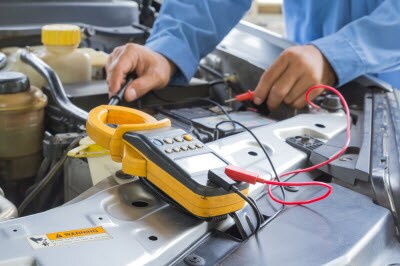 Multimeters are easy to find-you can get them at a local parts dealer, an online retailer, or many big box stores. It's a quick way to check your battery charge. It's a good idea to have one even if your battery is of the maintenance-free variety with an indicator.
To check your charge, set the voltmeter to 20 volts. Touch the black probe to the negative battery terminal and the red probe to the positive battery terminal. While doing so, ask someone to turn on the headlights. This will provide a light load on the battery.
Then check your reading. At roughly 80 degrees F, your battery should match the charge listed above. If it reads 12.3, you're about 75% charged, and if it reads 11.8 or lower, you're at less than 25% charge.
Service at St. Charles Nissan
If you're in the St. Charles, St. Louis, O'Fallon, or Saint Peters area and you need help to check car battery voltage or service on your low battery, St. Charles Nissan can help. Stop in to our service center today!