When you're looking for a quality vehicle to get around the beautiful landscape of Wentzville, why not choose a Nissan? Finding a Nissan dealer near Wentzville isn't impossible because St. Charles Nissan is less than 15 miles away. But you really don't have to make the trip across I-70 just to see what we have in stock.
Nissan Dealer near Wentzville MO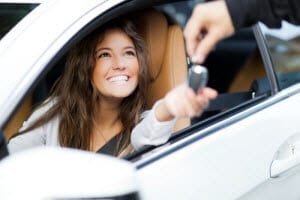 Even though we're a Nissan dealer near Wentzville, you can easily browse our entire inventory from the comfort of your own home. You'll see models like the efficient Nissan Sentra, the stylish Nissan Maxima, or the spacious and commanding Nissan Pathfinder. All of these models and more can be found on our lot.
To help you find exactly what you're looking for, you can use the search filters. You can tailor your search based on model, trim, price, color, and features. Whether you're looking for a vehicle with memory seats, driver assisting technology, or a rearview camera, you can easily find it with our filters.
We also have a variety of research tools that you can use to come to a decision as to which Nissan vehicle you want the most. Our vehicle reviews give you an in-depth look at your favorite Nissan models. You'll learn about engine performance, entertainment technology, and safety features.
Our vehicle comparisons will show you how these Nissan models stack up to the competition. You'll see the differences in performance, comfort, entertainment, and safety. These articles will show you everything that these Nissan models have to offer.
Customer Satisfaction and Helpful Assistance
As a Nissan dealer near Wentzville, we understand that one of the most important factors when buying a car is the customer experience. At St. Charles Nissan, we go above and beyond to help our customers not only find their next car but also have a great time doing it.
Our staff is friendly, courteous, and knowledgeable about our inventory. They'll show you the different trim levels of your preferred model so you'll have the best idea of which version appeals to you the most.
When you're ready to see how the vehicle handles, we'll set you up with a test drive. As you're heading out on the road, you'll see how the vehicle performs. When you pull back into our dealership, you'll know whether it's the car you want to take home.
Directions to St. Charles Nissan
You can find St. Charles Nissan at 5625 Veterans Memorial Pkwy in Saint Peters, MO. To get to our Nissan dealership from Wentzville, simply make a left on Church Street from West Main St.
Take the second exit onto State Highway Z after the traffic circle. Merge onto I-70 East/US 40 East, then take the exit toward I-70.
Keep right to stay on Veterans Memorial Parkway and you'll see our dealership on the right.
At St. Charles Nissan, we're always happy to see drivers from Wentzville come in to find their next car.