When shopping for your next vehicle near St. Charles, St. Louis, O'Fallon, and Saint Peters, MO, there are many things to consider. You probably want something with the perfect mix of style and power, plus top-notch reliability and safety to help keep you and your passengers protected. When you opt for the Nissan Sentra, you can expect all of the above.
While this attractive ride brings immense power to the table, it also comes jam-packed with some of the most advanced safety and driver-assist features. To learn more about them, our team at St. Charles Nissan put together this detailed 2021 Nissan Sentra safety review.
---
Nissan Sentra Safety Features
When you're cruising the roads with such precious cargo as a vehicle full of passengers, you'll want to drive with ease knowing you have the latest safety features to help keep them protected on top of the Sentra's ten standard air bags.
Luckily, the Nissan Sentra surely delivers in this category, and this is all thanks to the Nissan Safety Shield® 360 system. Safety Shield® 360 is an advanced safety suite, which combines many of today's top-of-the-line safety technology features. These features all work together to help protect you and your riders from a potential collision.
Some of the features you can find with the Nissan Safety Shield® 360 suite include:
Automatic Emergency Braking with Pedestrian Detection- This feature looks out for people crossing in front of you or slowing vehicles and automatically engages the brakes to help you avoid a frontal collision.
Rear Automatic Braking- This feature watches out for what's directly behind you and signals you to stop or automatically applies the brakes to help you avoid a rear collision.
Blind Spot Warning- This feature sends you a warning when a vehicle is traveling in your blind spot, in case you want to change lanes.
Lane Departure Warning- This feature helps keep you in your current lane if it detects you're drifting into another. If you begin to drift, it will issue a warning.
High Beam Assist- This feature detects an oncoming vehicle when utilizing the high beams and automatically switches them off when you drive by. Then, when the other car has passed, it will switch them back on.
Another standard safety feature that falls under the Nissan Intelligent Mobility suite is the Intelligent Driver Alertness system. This system monitors your steering patterns, and if it senses you might be tired or need a break, it alerts you with a noise and a cup of coffee icon.
---
Nissan Sentra Driver-Assist Features
Not only can the smart technology that keeps the 2021 Sentra safe make driving safer, but it can also make driving easier. If you're looking for additional driver-assist and safety features, the Sentra has them available. These features fall under the Nissan Intelligent Mobility dynamic drive technologies suite.
Four driver-assist and safety features available in this suite are:
Intelligent Cruise Control

-

When you're on the highway, this feature helps maintain a safe distance from the car in front of you. To keep the set distance, your Sentra will accelerate and brake when needed.
Intelligent Forward Collision Warning

-

This system senses what is going on in front of your Sentra up to two cars ahead of you. If it senses a sudden slowdown, it will warn you to brake.
Intelligent Around View® Monitor

-

Using various cameras, you will get a view of everything around your vehicle to make parking easier. You can even select a split-screen view or close-ups to view on your infotainment system.
Traffic Sign Recognition

-

While you're driving, your Sentra can keep you up to date on the most recent speed limit by detecting road signs.
---
2021 Nissan Sentra: NHTSA Safety Ratings
For every new model year, the NHTSA (National Highway Traffic Safety Administration) provides a safety rating made up of various factors such as crashworthiness. These ratings were created to help consumers when shopping for a vehicle. For the 2021 model year, the Nissan Sentra scored well with its rating, receiving an overall 5-star top safety score.
When creating these scores, the NHTSA looks at all of a vehicle's safety features and how they compare to similar features in other vehicles. The Nissan Sentra earns a high safety rating because it includes standard safety features that the NHTSA recommends: 
Forward Collision Warning

-

Uses forward-facing sensors to monitor and warn the driver of a possible imminent collision. In the Sentra, this is the Intelligent Forward Collision Warning.

---

Lane Departure Warning

-

Using a camera that tracks your Sentra's location in the lane, this feature will warn you if you drift unintentionally.

---

Crash Imminent Braking

-

If you don't brake on time when a crash is imminent, your Sentra will brake for you using its Automatic Emergency Braking feature.

---

Dynamic Brake Support

-

If you don't brake hard enough, your Sentra will help supplement your braking to help you stop more quickly using the Brake Assist feature.
With such a high rating, it's no surprise the Nissan Sentra is a popular choice among drivers.
---
Nissan Sentra: IIHS Safety Ratings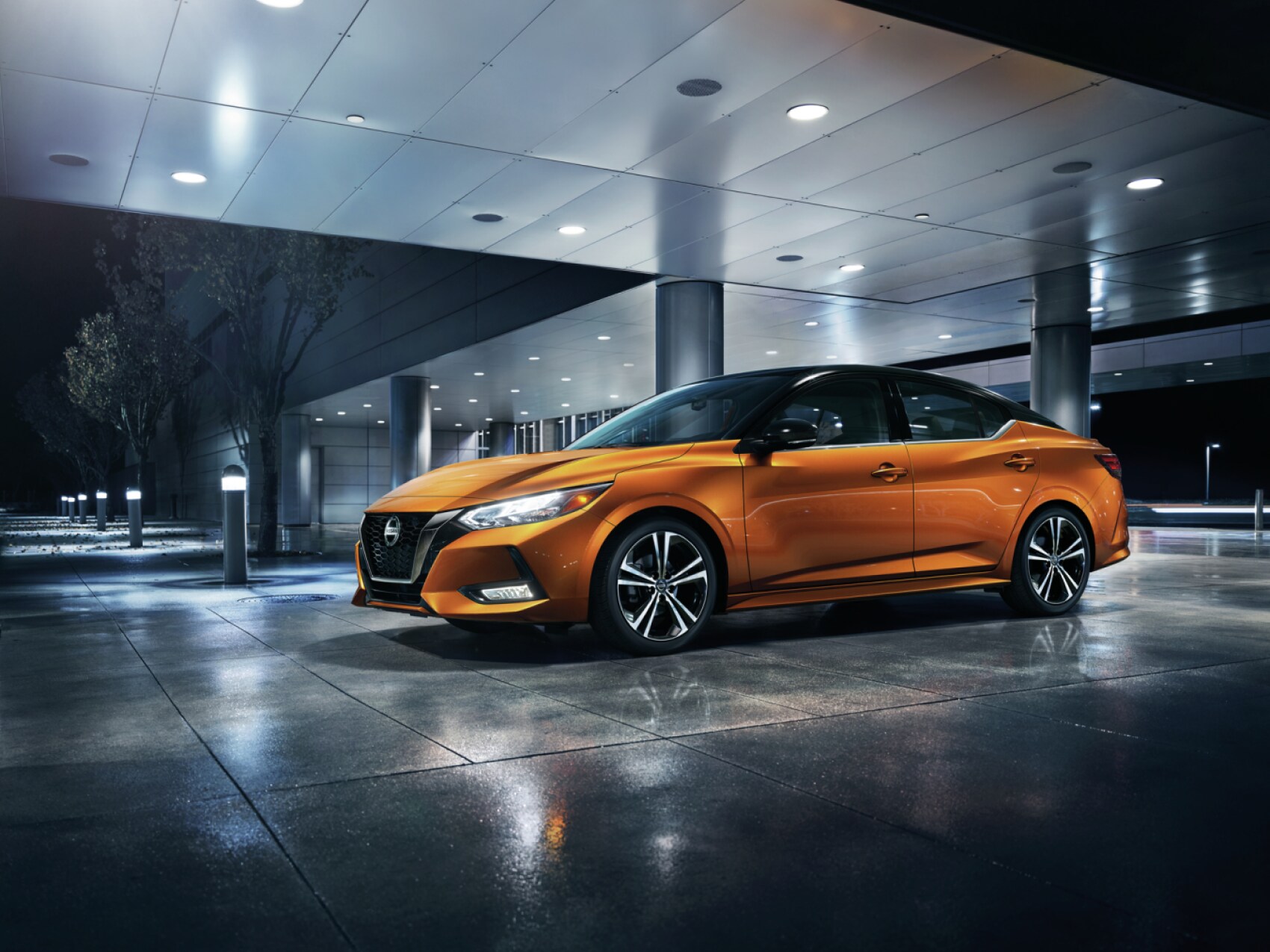 To give you an even better look at the overall Nissan Sentra safety ratings, we have also included the IIHS (Insurance Institute for Highway Safety) Safety Ratings. The IIHS uses two systems for grading vehicles. The first uses letters to rate the overall safety of a vehicle, the best grade being G for Good. The second rating system measures specific safety components and is on a scale of Superior, Advanced, or Basic, with Superior being the highest grade.
There are two types of tests that the IIHS puts vehicles through: Crashworthiness and Crash Avoidance & Mitigation. On the Crashworthiness portion, the Sentra earns a G. In the Crash Avoidance & Mitigation test that measures vehicle-to-vehicle front-crash prevention, the Sentra earns a Superior overall grade. When preventing vehicle-to-pedestrian collisions, the Sentra gets an Advanced overall grade.
This is another great safety rating for the Sentra, so you know that you'll be driving in a vehicle that will keep you safe when you get behind the wheel.   
Test Drive the Nissan Sentra Today
While our team at St. Charles Nissan will tell you what an amazing choice the Nissan Sentra is when it comes to safety, don't just take our word for it. Drivers near St. Charles, St. Louis, O'Fallon, and Saint Peters, Missouri, are encouraged to visit us. Our team will get you behind the wheel and answer your questions.
Contact our team to schedule a test drive today!