If you're in need of a tough pickup truck for work or play, take a look at the many options within the Nissan truck lineup. From the midsize Frontier to the heavy-duty Titan XD, there are a variety of exceptional pickup trucks that share powerful engine options, modern technology features, and the comfort of an SUV.
Drivers in St. Charles, St. Louis, O'Fallon, and St. Peters can learn more about the Nissan pickup truck options with our comprehensive review.
Nissan Frontier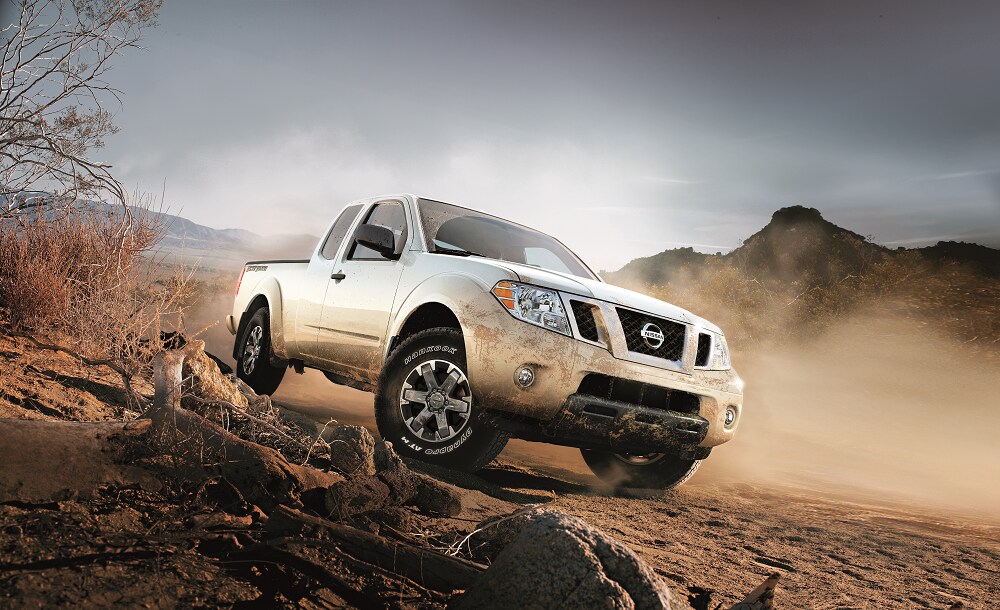 The Nissan Frontier is a midsize pickup that strikes the perfect balance between utility and comfort. Ranging from the purpose-built S model to the off-road oriented Pro-4x model, there's an option for everyone, and they share many of Nissan's most desirable features.
The Frontier comes with a 2.5-liter inline-four engine that produces 152 horsepower and 171 lb-ft of torque. The uprated engine option is a 4.0-liter V6 rated at 261 horsepower and 281 lb-ft of torque. A five-speed manual, five-speed automatic, or six-speed manual transmission is available, depending on the engine. Properly equipped, the Frontier can tow between 6,450 pounds and 6,710 pounds.
Inside, the Frontier features supportive seating that's ideal for long drives, along with ample headroom and legroom throughout the cabin. It also comes in several configurations, including a crew cab and extended cab model. All models come with a rearview camera, a 5-inch display for the audio system, and Bluetooth connectivity®. Optional upgrades, such as heated seats, dual-zone automatic climate control, a trailer hitch, and a cargo management system for the bed are also available, giving you plenty of options for comfort and convenience.
Nissan Titan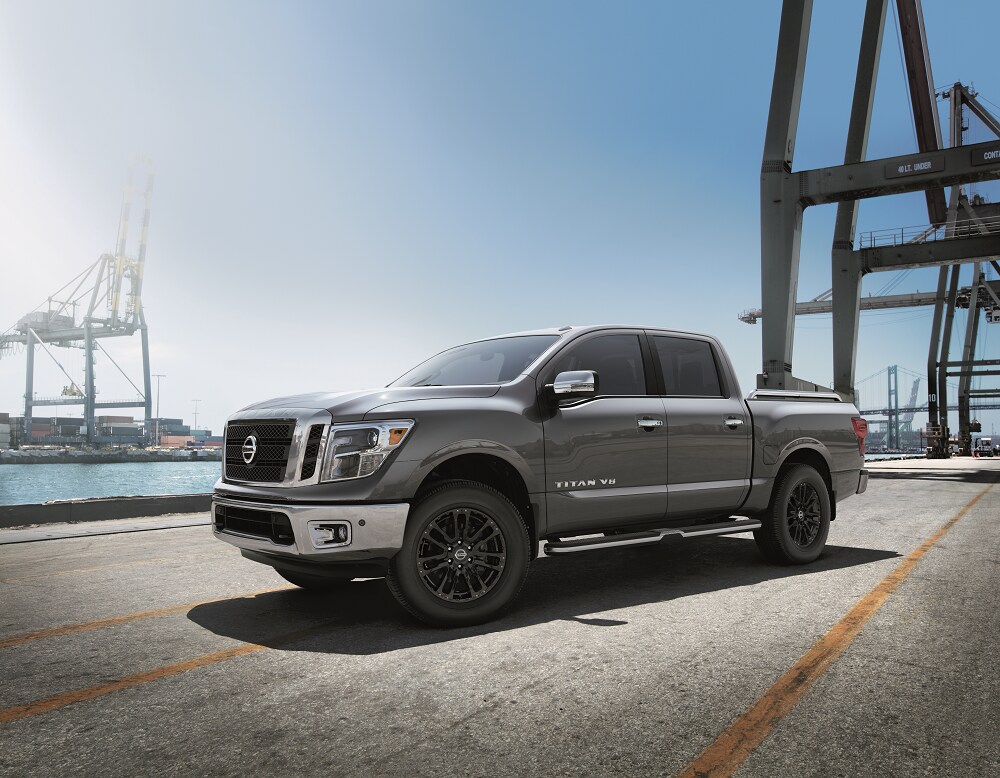 The Titan is a full-size pickup that extends its capabilities beyond towing and hauling, to become a near-luxury vehicle that's well suited for families. Like the Frontier, the Titan comes with several trim levels, including an off-road-oriented model.
A gas-powered 5.6-liter V8 is standard for the Titan, which makes 390 horsepower and 394 lb-ft of torque. It mates to a 7-speed automatic transmission, and rear or four-wheel drive are available. Properly equipped, this engine can tow up to 9,730 pounds and carry a payload of 2,000 pounds.
Inside, the Titan features high-quality cloth or leather upholstery, heavily padded seating, and ample space for passengers, along with a variety of upgrades that enhance the driving experience. Several small storage spaces are also available throughout the cabin.
The Titan can be equipped with a 5-inch or 7-inch touchscreen infotainment system, navigation, keyless entry, blind-spot monitors, and other desirable features for better entertainment, convenience, or utility.
Nissan Titan XD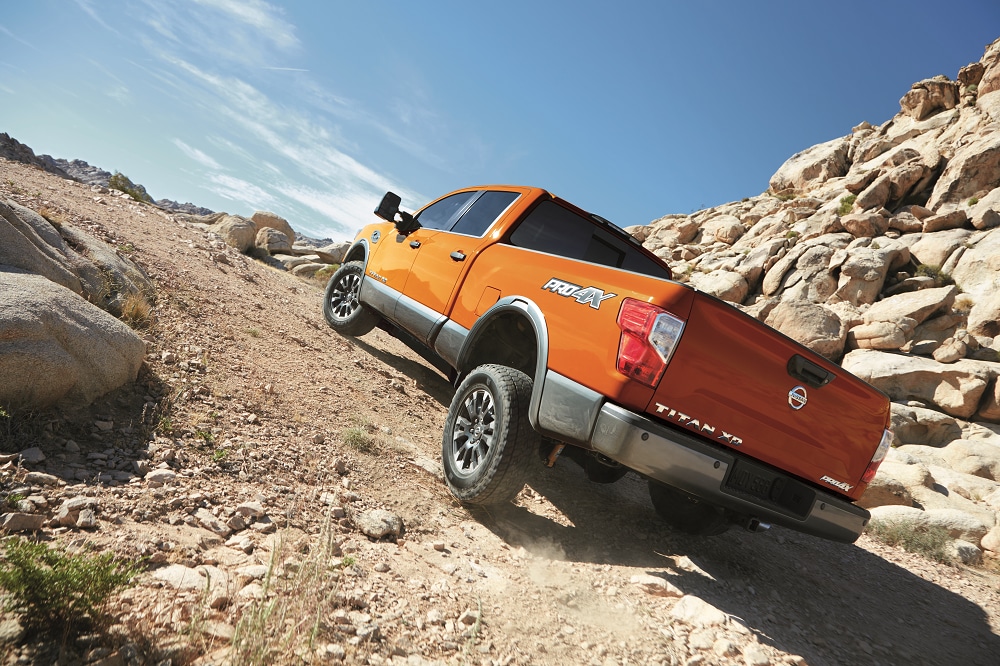 The Titan XD is the heavy-duty option within the Nissan pickup truck lineup. Designed for heavy work, this powerful truck can suit a variety of needs and offers plenty of comfort and convenience features.
The Titan XD comes standard with the same engine as the original Titan. The optional engine is a 5.0-liter V8 turbodiesel sourced from Cummins, which increases the torque to 550 lb-ft and the horsepower to 310. It pairs to a six-speed automatic transmission. Properly equipped, the Titan XD can tow up to 12,640 pounds.
Inside, the Titan XD is remarkably spacious. The longer wheelbase gives it additional passenger or cargo space within the cabin, and it's taller, providing more comfort for adult passengers. High-end accents, high-quality upholstery, and upscale materials also contribute to the well-designed cabin.
Like the other Nissan pickup trucks, the Titan XD can be equipped with many exciting technology and safety features, such as navigation, infotainment, dual-zone climate control, and Nissan telematics.
Test Drive a Nissan Truck at St. Charles Nissan
If you're shopping for your next pickup truck, take a look at one of these vehicles in the Nissan truck lineup. Drivers in St. Charles, St. Louis, O'Fallon, and St. Peters can visit St. Charles Nissan to browse our full inventory of Nissan pickup trucks and schedule a test drive. Contact us today!