As the suburban town of Wentzville continues to evolve, more fun activities and tasty restaurants present themselves. If you'd like to see it all, keeping your Nissan in tip-top shape is important-and oil changes play a big part in that.
If you've been looking for an oil change near Wentzville, MO, come to the service center here at St. Charles Nissan. We've been taking care of oil changes for years, and we'd like to share some of our knowledge with you!
Schedule an oil change online here!
The Purpose of Oil
As you drive your Nissan through Wentzville, the parts inside your engine move at a very high rate of speed. Oil works to keep all these parts lubricated. This reduces both friction and heat, so your engine can stay cool. On top of that, keeping everything running smooth will increase the lifespan of your engine.

Oil's other main function is keeping your engine clean. As oil cycles through, it gathers up the dirt and debris that can get caught in your engine. It then carries these contaminates to the filter where they are let behind.
Over time, oil begins to degrade and becomes less effective, so it's important to know when to have it replaced.
Signs You Need an Oil Change
Generally, you should get an oil change every 3,500 miles or three months, whichever comes first. It's also a good idea to check your owner's manual. It will show you the recommended interval for your specific Nissan model.
If you're not sure how long it's been since your last oil change near Wentzville, there are some things that you can look out for. If your check engine or oil warning light illuminates, have your car inspected. You may need some fresh oil.
You may also hear knocking sounds in the engine, which will sound like a rock tumbler. If you hear this, bring your Nissan in for an oil change as soon as possible.
Visit our Service Center to schedule an appointment!
An Oil Change at Our Dealership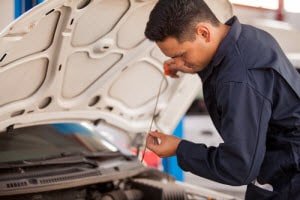 When you bring your Nissan to our service center near Wentzville for an oil change, one of our technicians can have it done quickly.
They'll start by checking the oil that's already in your vehicle. They'll see how much is left and how dirty it is. After draining and disposing of the old oil, our team will refill the engine with fresh oil that fits the specific needs of your vehicle. Finally, they'll allow the oil to cycle through the engine, so they can inspect your vehicle for any leaks or damage.
To help make getting an oil change even easier, we have a rotating list of service specials. You can check them out online!
Come Get Your Oil Changed!
Now that you know how important the oil in your Nissan is, be sure to stop by St. Charles Nissan for an oil change. It'll help make your next family trip to Quail Ridge Park even more exciting!