When you're sitting in your car making your way around the St. Charles, St. Louis, or Saint Peters area, you may notice that your vehicle emits a harsh squeaking sound, which is more noticeable when you're applying pressure to your brakes. You don't have to be a certified technician to see the correlation between this shrill sound and your brakes. If left unchecked, this problem could get worse, so schedule a visit to our service center today and we would be more than happy to help.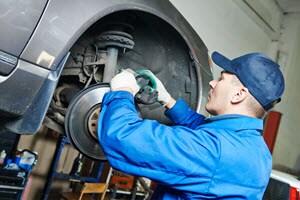 The first step to getting this issue fixed is determining what's causing the squeaking brakes. There are a few issues that could be the reason, but you also need to know if the brakes will need to be replaced so you can prepare. Our team at St. Charles Nissan is going to explore this issue to show you the most common reasons for your brakes squeaking, and the best way to go about fixing them. If it turns out that you need more assistance, feel free to contact us at your earliest convenience.
The Most Common Causes of Squeaking Brakes
Squeaking brakes don't necessarily mean a complete replacement. In fact, some are so simple that you don't have to worry about it. After a particularly humid night, or even after a snow day or a thunderstorm, your brakes may squeak when you first start driving your vehicle in the morning. This is caused by the rotors or pads scraping off the surface rust, and after a few brake applications, the noise will go away.
Not all squeaking brake problems are self-fixing like the one previously mentioned. They sometimes indicate an issue that requires a professional touch. Still, sometimes the most common cause is simple wear and tear on your rotors or even your brake pads.
Worn brake pads cause squeaking against the rotor and they are one of the most common issues that drivers face. Since they're supposed to be replaced every so often, it's not a huge blow to the bank account. This occurs more frequently if you use cheaper, off-brand brake pads. If you put off a brake pad replacement, the worn pads will eventually start digging into the rotors, resulting in more serious damage and more expensive repairs.
Preventing Your Brakes from Squeaking
The simple way to keep your brakes from squeaking is by keeping up with your brake pad replacements. You can do this by being aware of the lifespan of the pads, so if you hear the squeaking, you'll know that you have a brake pad replacement on the horizon. You also know that putting off this service can result in more complicated problems.
Get Your Brakes Serviced
Your brakes are one the of most important safety features of your vehicle, so it's imperative that you make sure they're functioning properly. One of the best ways is by keeping up with service, so professionals can gauge whether or not these pads need to be replaced, or if they're causing unnecessary wear to your rotors or calipers.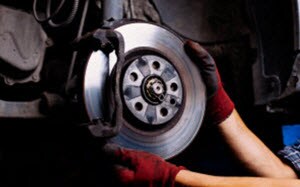 Whether you're the type of driver that keeps on eye out for an upcoming service interval, or you come in for a mechanical issue, you can always rely on our team of skilled technicians at St. Charles Nissan. Our team has the tools and the knowledge to determine the cause of your squeaking brakes. Plus, they'll determine the best course of action so you can continue to drive free of irritating noises.
Are your brakes squeaking? Then you might want to check out the service center at St. Charles Nissan, the dealership that's proud to help drivers around the St. Charles, St. Louis, and Saint Peter's area with their automotive issues.