Did you know that the motto for Maryland Heights, MO, is "Where Life is Celebrated"? This city sure keeps true to its motto, with its small-town charm and big-city appeal. If you're a fortunate resident, or you're in town trying your luck at the Hollywood Casino St. Louis, you'll need a car to get around. But you don't have to break the bank on a brand-new model when you have a reliable used car dealer near Maryland Heights at St. Charles Nissan. 
Used Car Browsing Convenience
Even though we're a used car dealer near Maryland Heights, you don't have to head west on I-70 to start finding your next car. You can actually get comfortable and browse our used car inventory from home by visiting our website. From there, you can catch a glimpse of the latest used cars to arrive on our lot.
You don't have to spend all day sifting through the pages on our website. That's why we have search filters you can use to expedite your search. You can browse by make, model, year, price, or features. If you've always wanted a vehicle with leather seats, a premium audio system, or a navigation system, you can easily find one in our inventory. 
A Great Customer Experience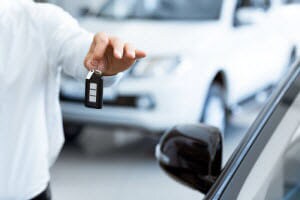 As a used car dealer near Maryland Heights, we're well aware of the trepidation that drivers have about visiting a used car dealer. At St. Charles Nissan, we've heard all the horror stories about terrible used car experiences. We do things differently by providing a comfortable and inviting environment where you can have fun and learn about the vehicles you're interested in.
When you arrive at our dealership, a member of our staff will greet you and show you around. He or she will answer any questions you might have about our used car inventory, and when you're ready, you'll get set up on a test drive. While you're out on the road in the vehicle, you'll get a sense of how it handles. You'll even get to check out the interior. When you pull back into our dealership and put the vehicle in park, you'll know if you've just driven your next car. 
Automotive Service and Maintenance
At St. Charles Nissan, we're not just a used car dealer near Maryland Heights. We're your destination for reliable service and maintenance. Our service center is stocked with the latest automotive tools and technology.
Our skilled technicians, using these tools, can easily identify any issues facing your vehicle and determine the best possible options for repairs and adjustments. They aren't afraid to get their hands dirty, and they'll happily roll up their sleeves and go to work to make sure your vehicle is performing at its absolute best, so you can continue driving around the streets of Maryland Heights.
Stop into St. Charles Nissan to find your next car. We're always happy to help drivers from Maryland Heights with their automotive needs.