Did you know that O'Fallon, MO, ranked number 39 on Money Magazine's "Best 100 Places to Live" in 2006? This city offers a great deal in aesthetic appeal, community, and living. Whether you're catching a River City Rascals' game, grabbing a bite to eat and a drink at one of the many Irish bars, or simply visiting one of the many parks, you'll need to find a vehicle that can get you there. You don't have to find a vehicle that's fresh off the assembly line when you have a great used car dealer near O'Fallon, MO at St. Charles Nissan. 
Used Car Browsing Convenience
Despite being a used car dealer near O'Fallon, you don't have to plan your day around visiting our dealership just to see what kind of vehicles we have in our inventory. You can actually sit back, relax, and take your time by visiting our website. All the latest used vehicles can be easily found in our online inventory.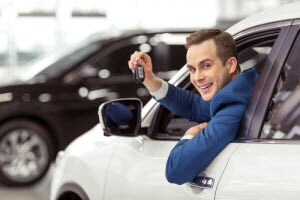 We carry an extensive variety of makes and models. Even though our inventory is vast, you can easily filter through it to find what you're looking for with our search filters. You can browse by make, model, mileage, price, and features. If you've always wanted a vehicle with a navigation system, heated seats, or a rearview camera, you can easily find vehicles that feature the components that are most important to you. 
Helpful Sales Team
When you're looking for a used car dealer near O'Fallon, you're looking to avoid the clichés and tropes of the stereotypical used car dealer. At St. Charles Nissan, we separate ourselves from the stereotypes by providing our visitors with helpful information to guide them on their journey toward their next car.
When you arrive, you'll be greeted and guided by a member of our team. They'll happily show you the latest used cars to grace our lot. When you find one of interest, we'll schedule a test drive so you can get a hands-on feel for the car. When you're out on the road, you'll soak in the experience of driving the car. When you pull back to St. Charles Nissan, you'll know whether or not you've found your next car. 
Expert Automotive Service near O'Fallon
When you find your dream car in our used inventory, you'll want to take the necessary precautions to ensure it can last for many years and miles. At St. Charles Nissan, the doors to our service center are always open to our drivers. Our team of skilled and certified technicians will make sure your vehicle gets the necessary care and attention it needs to be ready to face the open road. You can even schedule your service online. Fill out the form with some basic information and we'll contact you shortly to confirm your appointment with us.
At St. Charles Nissan, we're always happy to provide service to our neighbors in O'Fallon.