Finding a quality used car near Saint Peters shouldn't be a difficult endeavor because St. Charles Nissan is right around the corner. As a used car dealer in Saint Peters, we go out of our way to help our customers find the car that's right for them.
Our Online Inventory
You don't have to physically come to our dealership just to see what we have to offer. Luckily, you can comfortably browse our entire used car inventory online at any time of the day.
If you know what you're looking for in your next car, you can use our search filters. You can search by make, model, and price. You can even search based on features. You can easily find vehicles with a rearview camera, premium audio systems, or heated seats. Simply select the filters and you'll have a list of all of the used vehicles in our inventory that meet your standards.
If you're on a budget, we understand. That's why we have used cars under $10,000. You can easily look at these cars that work for your wallet. And these aren't cars from the 1980s. Actually, some of them are only a few years old.
Friendly and Knowledgeable Staff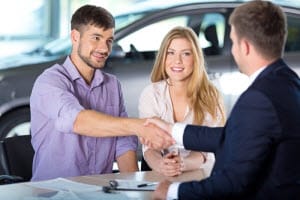 As a used car dealer in Saint Peters, we go to great lengths to help our customers make the best possible decision regarding their future car.
Our staff of friendly and knowledgeable sales associates will gladly help you throughout your experience at St. Charles Nissan. They'll get to know you enough to figure out what you're interested in and gladly help you navigate our used car lot. They won't leave your side until you find the right car.
Once you find your vehicle, our sales associates will set you up with a test drive. There's no better way to learn about a car than by sitting in the driver's seat and taking it for a spin. You'll get a feel for how the vehicle handles, and you'll even get a glimpse at its interior features. Then you'll know if it's the vehicle for you. 
Where is the closest Used Car Dealer near me?
When you join the St. Charles Nissan family, we want you to know that we're here to help you keep your vehicle up to speed in terms of maintenance. Our service center is fully stocked with the latest automotive maintenance technology. These tools, combined with our highly skilled technicians, make service and maintenance easy and efficient. At St. Charles Nissan, you can count on us.
St. Charles Nissan is located at 5625 Veterans Memorial Parkway in Saint Peters. Stop in to see how we can help you find the right used car.