No one looks forward to dashboard symbols appearing in their Nissan Versa while they're out on the road in the St. Charles, St. Louis, or O'Fallon area. When dashboard symbols appear, there are important steps to take. However, depending on which light came on, you may not have to panic.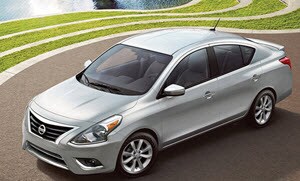 It's important to be able to differentiate your dashboard symbols, so our team at St. Charles Nissan is going to take the reins to help you out. We'll show you the difference between indicator lights and warning lights. You'll also learn what the lights mean, and the actions you should take when they appear. This is your Nissan Versa dashboard symbols guide!
Dashboard Symbols: Indicator Lights & Warning Lights
While there are many dashboard symbols with varying meanings, it's important to know the difference between indicator lights and warning lights. Indicator lights are generic reminders of a system or component that has been activated. Sometimes these lights require you to perform an action.
Warning lights are exactly what they sound like: warnings. When these symbols appear, they're letting you know that there is a vehicle component that's malfunctioning. If the light is flashing, it means that you should pull over as soon as possible to prevent the issue from becoming worse.
Dashboard Symbols: Indicator Lights
Cruise Main Switch Indicator. This light will pop up on your dashboard when you've activated the cruise control system. Once you deactivate the system, the light will go away.
Front Passenger Air Bag Status. This light only appears when you have a passenger riding in the front seat. The occupant sensor detects passengers to prevent the airbags from deploying to an empty seat during a collision.
High Beam Indicator Light. When you turn your high beams on, this light will appear until you deactivate the lights.
Slip Indicator Light. When your vehicle endures a loss of traction, your Vehicle Dynamic Control system will activate and this light will come on while the VDC is running. Once your vehicle regains traction, the VDC system will disengage and the light will go away.
Dashboard Symbols: Warning Lights
Brake Warning Light. This light has two meanings. It could be that your parking brake is still engaged, which is an easy fix. Or, it could be that your brake system is low on fluid or malfunctioning. Contact your Nissan dealer right away if it's the latter.
Charge Warning Light. If you see this light coming on, you should pull over to safety, turn off your vehicle, and check to see if the generator belt is loose or broken. It's recommended that you contact your Nissan dealer if the light stays on, or if the belt is damaged.
Engine Oil Pressure Warning Light. When this light comes on while you're driving, or it flashes during your trip, immediately pull your vehicle over to safety and contact your Nissan dealer. 
Power Steering Warning Light. If this light pops up on your dashboard, you should pull over to safety as soon as possible and turn off your engine. If the light stays on after you restart your vehicle, contact your Nissan dealer and don't continue your journey. Your vehicle will be very hard to maneuver if your power steering isn't functioning properly.
St. Charles Nissan is Here to Help
If you notice that one of your dashboard symbols appear while you're out on the road, and you're in need of assistance, you can always call us at St. Charles Nissan. Our technicians will find the problem and determine a long-lasting solution so you can continue your trips around the St. Charles, St. Louis, and O'Fallon area worry-free.
Schedule your service with us at St. Charles Nissan.