At St. Charles Nissan, we strive to be more than just a Nissan dealer that serves drivers all across the St. Charles, St. Louis, and O'Fallon area through a variety of means, like helping them find a vehicle that they can rely on, or providing professional automotive service. As a Nissan dealer, we also understand that it's important to not only help our drivers, but educate them as well. That's why we have this Nissan dashboard symbols library. 
Nissan Sentra Dashboard Symbols
Nissan Maxima Dashboard Symbols
Nissan Altima Dashboard Symbols
Nissan Rogue Dashboard Symbols
Nissan Murano Dashboard Symbols
Nissan Armada Dashboard Symbols
Nissan Versa Dashboard Symbols
Nissan Frontier Dashboard Symbols
Nissan Titan Dashboard Symbols
Our Dashboard Symbols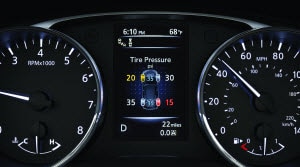 As you can see, this page features all of our Nissan dashboard symbols. These guides are designed to help our drivers understand the many different lights that can appear on their instrument cluster. While it can be very difficult and strenuous to keep track of all these lights and their meanings, these guides not only show you what the symbols mean, but what you should do when they appear while you're out on the road. 
How to Use These Guides
When you're out on the road, heading to your destination, you never expect a dashboard symbol to appear. However, when it does, it can be an anxiety-ridden situation. The important thing is to remain calm, and determine what the light is telling you. Our guides can help you with that by not only showing you the difference between indicator lights and warning lights, but informing you of the engine component that's malfunctioning. 
Getting the Right Service
After reading the dashboard symbols guide for your model-specific Nissan, you'll be well-aware of the warning lights and their meaning. At St. Charles Nissan, we want you to know that if a warning light appears and leaves you stranded on the road, you can always contact us for help.
Our Service Center is equipped to help you bring your vehicle back to working order. Our Nissan-certified technicians use advanced diagnostic tools to determine the cause of the malfunction, and they'll figure out the best possible solution in making the repairs so you can continue to enjoy driving around in your Honda. 
Do you have more questions about your dashboard symbols? Contact us at St. Charles Nissan for information, advice, or service. We're always happy to help drivers in the St. Charles, St. Louis, and O'Fallon area.